"That Shark Is Fighting for His Life": Terrifying Video of Men Pulling Monstrous Shark Out of Water and Riding It Like Horse Leads to Brutal Reactions From Netizens
Published 06/07/2023, 4:57 PM EDT

Follow Us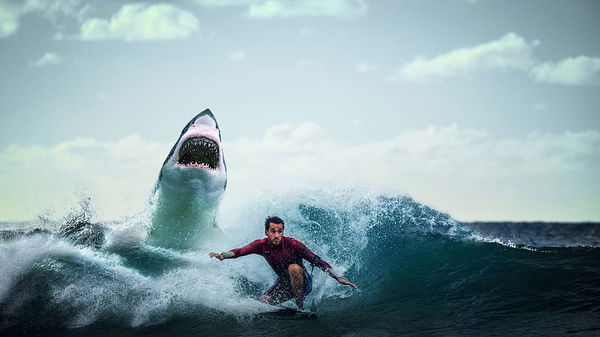 For most, sharks are the predators of the oceans. With an acute rise in the human population, we have started to encroach on the natural elements, including the vast seas that these dignified creatures call home. For a large part, it's for recreational activities like surfing, swimming, sailing, etc. However, that does not hold true always. Marine life, especially sharks, are hunted for economic reasons as well. Along similar lines, two men became the subject of social media scrutiny as they tried to pull a shark from the ocean, all while riding it like a horse.
America's Favorite Video Today
Shark fishing, for various purposes including food and other commercial uses, has seen a rise in recent years. Fishing lines are set as traps for sharks, and they routinely get stuck in them at the cost of their lives. A similar video of a shark unable to move due to a fishing line has left the internet divided.
Shark fishing and its adverse consequences
ADVERTISEMENT
Article continues below this ad
The video that was circulating on Facebook sparked outrage among viewers. It showed two men sitting on the top of a shark that was stuck and twisting from side to side in an attempt to escape into the water. Several viewers stood on the beach watching the scene unfold before them, which further angered the viewers. They alleged a case of brutality against the shark. Looking at facts, it is not a stretch to say that human-shark interactions are laced with cruelty.
According to a report by Shark World, humans kill around 100 million sharks each year. Some parts of the body of a shark fetch high prices in the market, which is a reason for fishers to hunt them. In Europe, North America, and South America, shark meat is also considered a delicacy.
Another cruel practice is Shark Finning. It involves cutting off the fin of the shark and throwing the rest of the body back into the water. After such barbaric dismemberment, the shark either bleeds out in the ocean or is attacked by other marine life. The fins of the shark are collected for a popular dish called Shark Fin Soup, which is said to possess miraculous properties. However, the same has not been scientifically verified.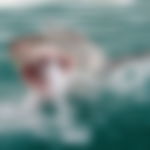 When sharks get stuck in fishing lines, they often wash up on shores, and as a result, can die a painful death if not rescued. Turns out, in the video going viral, the rescue attempt was misconstrued as an act of cruelty among netizens.
Shark-surfing hooligans or messiahs?
ADVERTISEMENT
Article continues below this ad
Earlier, it seemed like the two men were riding the shark like a cowboy on a horse for fun and games. This led to a complete outrage among the audience, as they fought in favor of the shark trying to escape. Someone said, "That isn't funny that shark is fighting for his life". Another angry viewer expressed their views, saying, "That's terrible. Should have been arrested. Too bad he didn't get bit". Someone cried the woes of human encroachment, and said, "This is just ridiculous…. NOT funny!!! We're in their living space!!!"
Providing feedback will help us make your experience better.
Enjoyed Your Read? Let us know how likely you are to recommend EssentiallySports to your friends!
ADVERTISEMENT
Article continues below this ad
However, it soon turned out that the entire truth had not come out, and the men were, in fact, trying to save the shark. The shark had gotten stuck in a fishing line, and the men were trying to free it from the line. Other followers spoke out against the people who were spreading lies, and said, "Y'all are going to get sued for defamation. You posted that line for angry reactions and shares. You knew he was trying to keep the shark steady…" This confusion is a lesson, that we should not vilify others based on incomplete or misinformation.
Watch this story – Kelly Slater's IG Following Shows He Still Follows Supermodel Ex-Girlfriend Gisele Bundchen As Well as Former Hubby Tom Brady