"This Is Sick": Michael Phelps Reacts to His Portrait Alongside Soccer Legend Lionel Messi
Published 03/09/2023, 9:58 AM EST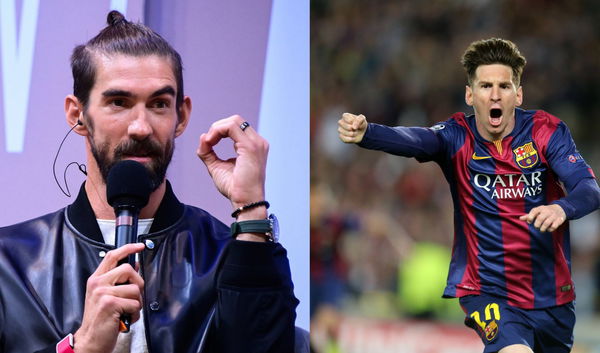 Art is appreciated by most people around the world. No matter what someone's professional background is, art connects people from diverse fields through their interests. Recently, an incredible artist brought together two legends from two different sports, Michael Phelps and Lionel Messi, with her brush strokes. On their Instagram page 'mbyworks', Michaela Ben Yehuda shared a picture of the two portraits. Michael Phelps also stepped up to applaud the brilliant work of the artist.
As we have seen earlier, Phelps never misses on appreciating the artwork he sees. A few days ago he shared a heartwarming moment on Instagram applauding a sketch by a little girl. Similarly, when Phelps saw the splendid art on Instagram, he shared the post on his story with a message for the artist. Moreover, he didn't stop there. He also expressed his awe in the comments section of the post.
Legendary swimmer Michael Phelps became a fan
ADVERTISEMENT
Article continues below this ad
Michaela Ben Yehuda is an exceptional artist from New York. She mostly works with acrylics and oils and creates some mind-blowing artworks. Yehuda shares her art pieces on Instagram, and also sells her work in a gallery. The artist shared the portraits of Michael Phelps and Lionel Messi as a part of her current collection. Moreover, while sharing the picture, she captioned, "Introducing #lionelmessi and #michaelphelps amongst the new additions to a current collection of major athletes. Who's on your wall of 🐐?"
 

View this post on Instagram

 
As the Baltimore Bullet watched this art piece, he didn't waste any time and appreciated the work. Firstly, he commented on the post impressed with the work, writing, "That's 🔥". Furthermore, he also shared the post on his Instagram story with his reaction to the art. He wrote, "This is sick!!!".
Getting a comment and appreciation from the legend himself is a massive achievement for anyone. And as Yehuda saw the comment, she couldn't soak in the excitement as she thanked the GOAT and offered to send him some more customized pieces. She replied, "what an honor! Glad you like it. Check your DMs, I'd love to send you a custom piece 😉". 
Some users left some comments, as they witnessed this exceptional art. Most of the fans applauded the artwork with one word as they wrote: 
"Sickk!!!!!"
ADVERTISEMENT
Article continues below this ad
"Amazing!!!"
"The best!!!"
"Wowww! You're amazing @mbyworks Nice choice"
ADVERTISEMENT
Article continues below this ad
Michael Phelps never fails to appreciate the hard work done by anyone. Whether it is a kid or a grown artist, Phelps loves to promote positivity and happiness all around. Looking at this art piece, what do you think of these amazing portraits of the legends? 
Watch This Story: Goat Michael Phelps Weighs In on Dwayne 'The Rock' Johnson's Epic Cheat Meals