"This Is What I Got": Michael Phelps' Son Adorably Fails at a Basic Task Assigned by His Mother Nicole Phelps
Published 12/27/2022, 8:45 AM EST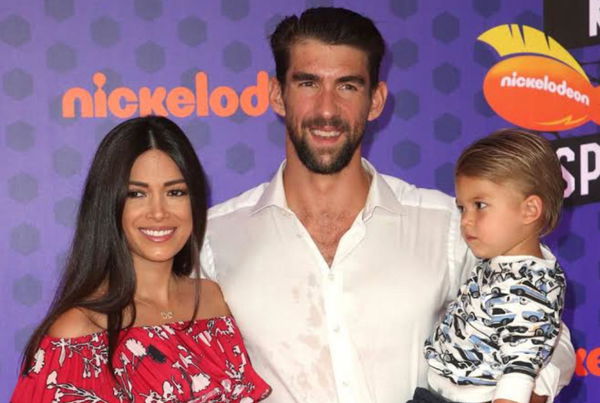 The Phelps family always steals the show because of their fascinating dynamics. Whether it is impromptu weekend excursions or simply a Christmas celebration, the Flying Fish's family always takes up the spotlight with their admirable social media pictures. Likewise, recently Michael Phelps's wife shared a glimpse of their eldest son Boomer's antics and made many heads turn their way.
Ace Olympian, Michael Phelps, and his wife, Nicole Phelps share three children together. And, by looking at their social media handles, one can't help but find the Phelps kids adorable. The eldest Phelps kid bagged all the social media brownie points with his answer to a task assigned to him. Let's take a peek at Boomer's fun response to mommy Phelps.
Michael Phelps' son failed adorably in the task given by his mom
ADVERTISEMENT
Article continues below this ad
Recently, the Baltimore Bullet's wife, Nicole Phelps took to her Instagram story to share a glimpse of her son's response to the task she assigned him. As per the picture, Nicole asked her son to fetch a cup of water. Following his mom's instructions, Boomer diligently did as he was asked. However, the cup into which he poured the water wasn't a regular drinking cup; it was a measurement flask.
 

View this post on Instagram

 
On Boomer's failed yet adorable response, Nicole shared the picture of the flask and captioned the post, "I asked Boomer a cup of water….this is what I got".  Along with the caption, she also tagged her husband, Michael Phelps. 
Interestingly, the 37-year-old Olympian reposted his wife's picture through his Instagram story. And, replied her by writing a delightful caption. Phelps penned, "you got 2 cups of water".
All about the adorable Phelps kids
Michael Phelps and Nicole Phelps are the parents of three charming boys. The eldest of the three is Boomer Robert Phelps who is 6 years old. The middle one, who is 4 years old is Beckett Richard Phelps. And, the youngest of three is Maverick Nicolas Phelps, who is 3 years of age. 
ADVERTISEMENT
Article continues below this ad
 

View this post on Instagram

 
Interestingly, the Phelps children have their own social media handles, which are managed by their parents. The Olympian and his wife actively share fascinating photos and videos of their kids on their respective Instagram accounts. Fans for their part can't get enough of the family pictures. 
ADVERTISEMENT
Article continues below this ad
Watch this story: From Tiger Woods to Michael Phelps Here Are the Longest Televised Golf Putts in the Golf History
What would you tell little Boomer about his adorable mistake? Tell us in the comments!