World's Fastest Man, Usain Bolt, Would Easily Outrun Jurassic Park Dinosaur by 2 Seconds, as Calculated by Undergrad Physics Students in 2022
Published 01/20/2023, 1:00 PM EST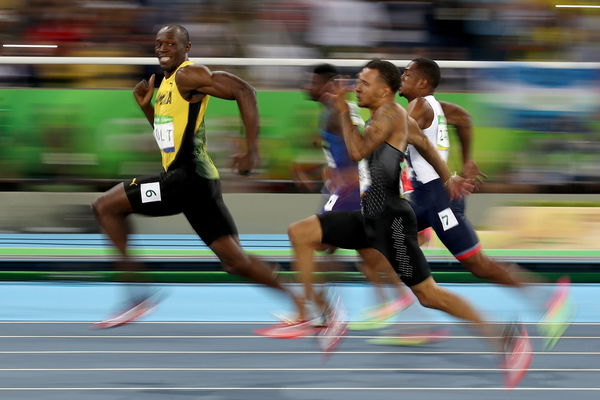 The Lightning Bolt from Jamaica is the fastest man alive on the planet. The entire world had witnessed Usain Bolt's dominance in sprinting throughout his career. On a separate note, interesting news came in when a physicist from the University of Toledo named Scott Lee associated his undergrad students with a rather unique yet exciting assignment. The assignment was to determine whether it will be the legendary sprinter or Dilophosaurus (the dinosaur from 1993 Jurassic Park) who will win a 100m race.
The students certainly had a wonderful time solving the problem. Moreover, they came up with a shocking result that little Usain Bolt can take down the massive dinosaur by two seconds in the race. How is that even possible? How'd a human beat a giant dinosaur in a race?  
The science behind Usain Bolt defeating the dinosaur
ADVERTISEMENT
Article continues below this ad
The key factor behind winning any race is the acceleration provided to the body. In the case of track and field, it's the acceleration of the body. So, the major factor behind who would win lies in the science of who could accelerate more and faster between Bolt and Dilophosaurus. Now, on top of this comes Newton's second law of motion.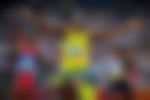 Newton's second law of motion indicates that acceleration depends on the force and mass of the body. The physicist Lee explains, "Dilophosaurus has bigger muscles and can generate a bigger force, but that force goes up against the cross-sectional area of the muscle. So the bigger something gets, yes it becomes stronger, but its acceleration becomes less. That's why Dilophosaurus, because it's so much more massive than Usain Bolt, accelerates a lot slower." 
ADVERTISEMENT
Article continues below this ad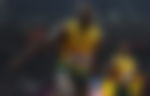 When students began working on the assignment, they applied basic concepts of physics like displacement, acceleration, and velocity to reach the result. As explained by Lee, acceleration played a vital role in the result calculated by the students. As reported by Discover Magazine, on one hand, where Bolt began his acceleration with around 14 meters per second squared. On the other hand, Dilophosaurus just had an acceleration of around 4 meters per second squared. Henceforth, they concluded that Bolt would have defeated the giant Dilophosaurus by two seconds. 
ADVERTISEMENT
Article continues below this ad
Watch This Story | Goodbye to the Eternal King Pele Usain Bolt Joins David Beckham Cristiano Ronaldo and Soccer World in Mourning the Saddening Loss of Goat Pele
While he has been compared across metrics, if you had a chance to put Usain Bolt against an animal, who would you choose? Let us know in the comment section. 
Edited By: Jahnabi Choudhury