"Lived in a Tent With a Bicycle for a While": Famed Rock Climber Alex Honnold Debunks a Whack Myth Around His Niche Sport
Published 12/15/2022, 2:00 PM EST

Follow Us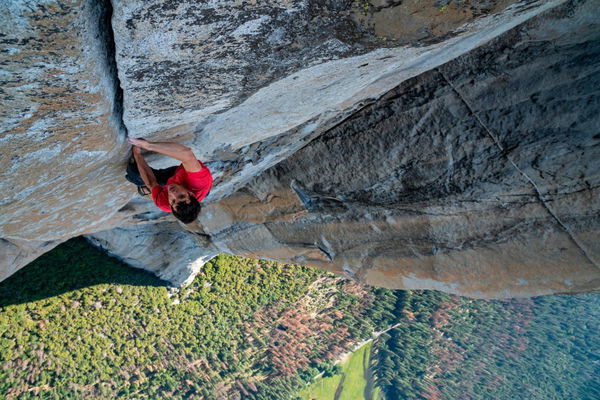 Imagine hanging on to a cliff that has a 90-degree vertical with only the help of your hands, and no ropes to save you in case you slip. Sounds crazy right? Well, that is a normal day for the Rock Climber Alex Honnold. Maybe normal is an exaggeration, but Honnold has climbed the 900-meter-tall El Capitan- an extremely dangerous and just as famous vertical rock face situated in Yosemite National Park, and he did it without using any protective equipment.
However, that's not the only crazy thing that he has done. At one point in time, Alex Honnold "lived in a tent with a bicycle for a while." But that begs the question, how do other rock climbers live? This is the exact question that came up while Honnold was answering some fan queries on the Wired YouTube channel.
ADVERTISEMENT
Article continues below this ad
Not all Rock Climbers live in vans: Alex Honnold
In the video, Honnold was answering some burning questions that piqued the curiosity of his fans. A fan asked, "Do all rock climbers live in vans?" To which Honnold replied, "Not all Rock Climbers live in vans." 
While living in a van might seem to be a strange notion to us, apparently, it's a very common thing for Rock Climbers. In fact, according to Honnold, "…I think living in a van is definitely a nice way to live for a rock climber because it allows you a lot of the comfort of a home but with the flexibility of traveling non-stop to get to good climbing areas and follow good weather."
It's clear that Alex Honnold is partial toward vans when it comes to choosing a suitable home for his lifestyle, which is why he has also used vans to make a home for himself while he's traveling to find some exciting rocks to climb.
Honnold and the majestic El Capitan
One thing that Honnold definitely does not lack is courage, and the other is pure and unadulterated grit. Only a man with guts of steel would even think about doing what he actually did in real life. In the video, Honnold talks about how he had to dedicate two years of his life to the preparation of scaling the mighty El Capitan.
A wintery view from the side of El Cap. It's a season of contrasts right now – so much sun on the wall but deep shade and snow in the rest of the Valley. So scenic. pic.twitter.com/WjZ047wXSf

— Alex Honnold (@AlexHonnold) November 20, 2022
ADVERTISEMENT
Article continues below this ad
Not that the two years made it any easier. When a fan asked, "…you climbed El Capitan, how did you remain focused rather than being afraid of the height?". Honnold's reply was simple, "In general, it's easy to remain focused when your life is on the line."
Watch this story: 31-year-old former Dallas tight-end Gavin Escobar tragically passes away in a rock climbing accident
ADVERTISEMENT
Article continues below this ad
However, Honnold devised as much as he could for the climb and even stashed food and drink on natural ledges that he found along the climb so that he could replenish while achieving an almost impossible feat that left everyone spellbound.
Alex Honnold certainly likes to live a dangerous life that involves conquering treacherous terrains, but his effortlessness in doing so makes him an exemplary human being.