A Young Student Challenged Tony Hawk to a Skate-Off- Here's What Happened
Published 12/15/2021, 9:52 AM EST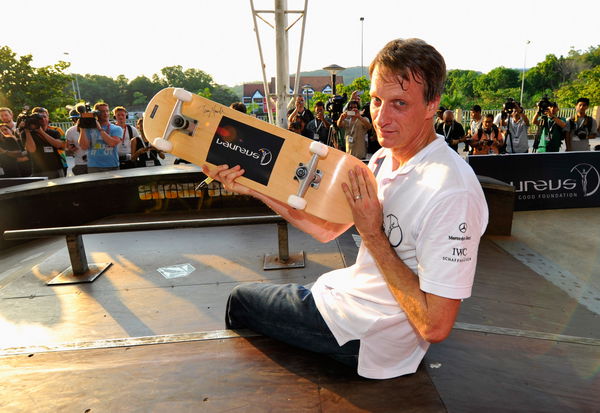 ---
---
Tony Hawk is a living legend of skateboarding. His key role in revolutionizing the sport is astonishing. Nonetheless, he is a humble and down-to-earth guy. Hence, his visit to Dublin saw him competing with a fan who asked for a game in skate.
ADVERTISEMENT
Article continues below this ad
Tony accepted the challenge. What followed was a sequence of events that both Hawk and the fan can never forget. Another day in the park for the greatest skateboarder of all time.
ADVERTISEMENT
Article continues below this ad
Tony Hawk recalls his skate game with a fan
This incident happen back in 2009. After his triumphant career in skateboarding, the University of Dublin bestowed the James Joyce award for his contributions to the sport. As he went to give a Q&A segment with the fans, he spoke about a fan wanting to challenge him for a game of skate. Although he tried to not compete with his fan, the guy was persistent in wanting him to compete with him.
"I did a speaking gig in Dublin and got invited to go, to receive the James Joyce award. I didn't really have a speech prepared as it was more like 15 mins Q&A with the audience. And this one guy was like would you play me a game in skate?" said Hawk.
With no gear and other safety equipment, he tried to ignore the fan. But the persistence of the fan won the day. Hawk recalled the fan tried to get his attention by raising his hands while the Q&A was going on. Thus, when he left the building after his time with the audience, Hawk got surprised to see the fan outside.
"I am walking out of the building, and the dude is right there with two skateboards. He's like come on man! We went at it," said Hawk.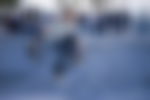 ADVERTISEMENT
Article continues below this ad
Hawk loves a challenge
With many students looking at him, the duo competed in a game of skate, showing off their unique tricks. Despite Hawk claiming the informal competition, the fan stood his ground and gave him a fair challenge. After the first two tricks, Hawk tried something extraordinary as the skater tried to replicate. But, it was too much!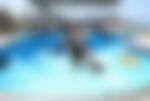 At the end of the competition, the duo embraced each other as students aside loved the battle between them. The skater was later revealed to be Richie Mooney, a photographer, who relocated to Canada, thereafter. It would have been a dream come true for the fan as he can boldly say that he matched Tony Hawk in the earlier stages of their duel.
ADVERTISEMENT
Article continues below this ad
WATCH THIS STORY- Top Collection of Ronaldos Most Iconic Number 7 Kits