"I Felt Really Scared": 7-Year-Old Swimmer Turned Angel for His Father and Sister With Life-Saving Act in 2023
Published 01/23/2023, 2:28 PM EST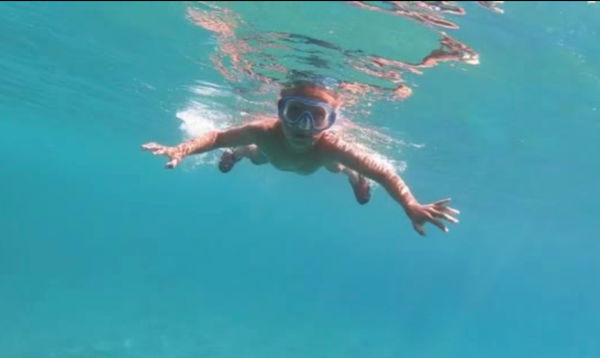 If the big blue ocean is a transparent haven for surfers, then it is an equal bit of an enigma for the ones who do not know their way around. Therefore, dealing with gigantic waves is not child's play, right? Well, a 7-year-old boy thought otherwise and ended up saving two precious lives from the ferocious clutches of the sea. 
On 20th January, Florida-based Chase Poust was swimming with his sister, Abigail, 4, in a river in Florida. The siblings were swimming around their father's fishing boat when they got swept away by a strong current. In order to save them, Steven Poust, their father, jumped into the water. Unfortunately, he too ended up being carried away by the waves.
A 7-year-old boy saved his family
ADVERTISEMENT
Article continues below this ad
As per the New York Post, 4-year-old Abigail was wearing a life jacket while swimming with her brother. When she let go of the boat, she got swept by the current, while Chase, who was not wearing a safety jacket, stayed with Abigail. "I felt really scared", said the 7-year-old.

To save his children, Steven dived into the river but got drifted away from the boat along with the Poust siblings. However, Chase started to swim back to the shore "while using the doggy paddle and back float to preserve his energy". The boy swam for about an hour to reach the safety of the shore, and as soon as he touched the land, sought help from the locals.
ADVERTISEMENT
Article continues below this ad
The rescue department found the 7-year-old's father and sister "about a mile from the anchored boat". Steven praised his son for showing fortitude in such a critical situation, saying, that Chase "made it to the shore and got help and that's what saved our lives".
 

View this post on Instagram

 
ADVERTISEMENT
Article continues below this ad
Clearly, Chase's audacious prompt is worth having a look into. While he is not the only 7-year-old to have saved a life in recent times, it is definitely a bold risk to take. What do you think about Chase's endurance? Tell us your thoughts in the comment section below.
Watch This Story –  A Huge Shock for Surfing Fans Before Vans Pipeline From Kelly Slater and John John Florence