Insane Records Show Katie Ledecky Is Already Miles Ahead of Many Olympic Male Swimmers
Published 05/25/2022, 11:11 AM EDT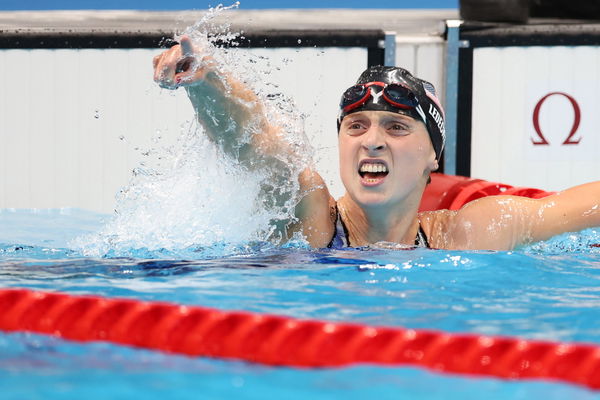 It's hard to imagine that Katie Ledecky is 25. Out of all the swimmers in the world, she is still going strong. Starting her career at the 2012 London Olympics, a 15-year-old Ledecky won the gold medal in the 800-meters competition. Since then, her career has witnessed an upward trajectory. Even though Australia's Ariarne Titmus is worth a challenge now, her times in the 800m and 1500m are unbreakable, even for men. 
As the 2024 Paris Olympics happens in two years, the USA released its standard qualifying times for the competitors. Surprisingly, when comparing Ledecky's times to the men's qualification times, one knows the quality she displays inside the swimming pool. 
ADVERTISEMENT
Article continues below this ad
How dominant can Katie Ledecky be?
Significantly, the glaring time differences are just stunning to watch. The 2024 Men's Olympic Trials Qualifying Standard time for the 800-meters is 15:39.89. It is a shadow of a time compared to Ledecky; the current world record holder, setting a time of 15:20.48. She is faster by 19 seconds when comparing those times. Now, how impressive is that! 
Katie Ledecky's best time in the 1500 freestyle of 15:20.48 is more than 19 seconds faster than the 2024 Men's Olympic Trials Qualifying Standard of 15:39.89

In addition, her 800m freestyle time of 8:04.79 is nearly 5 seconds faster than the Men's Standard of 8:09.69 as well pic.twitter.com/I5N44mqeRm

— Kyle Sockwell (@kylesockwell) May 24, 2022
Furthermore, when looking at the 1500-meters men's qualifying time, the minimum time required to qualify is 8:09.69. As for Ledecky, her personal best is 8:04.79. She is five seconds faster than that minimum time. It is just a testament to her dedication to becoming known as the best swimmer in the world while often training with male swimmers to improve her times. A fantastic achievement from the queen of the pool. 
However, the wunderkind from down under broke her 400-meters world record to solidify her position as her next best rival. 
Titmus reigns supreme
ADVERTISEMENT
Article continues below this ad
Ever since the 2020 Tokyo Olympics, Ledecky found a new swimmer who matches her stride for stride in the 200m and 400m competitions. Until then, no one came close to her. But, the 2018 Gwangju World Championships saw Titmus winning her bout with Ledecky in the 400-meters. After that, she took home the gold medal at the 2020 Tokyo Olympics. And now, she has broken her world record by setting 3:56.40 with a blistering swim.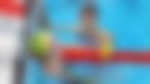 As they won't meet at the 2022 World Championships in Hungary, it will be a fascinating duel to see both Titmus and Ledecky going head to head against each other. 
ADVERTISEMENT
Article continues below this ad
They will meet at the 'Duel in the Pool' competition, as the duo will battle it out against each other. 
Edited By: Deepakshi Chaudhary