Caeleb Dressel Rubbishes Kingsman's Iconic 'Flooding Room' Scene- "Lung Capacity Must Be Gallons of Air"
Published 12/16/2021, 9:00 AM EST
In terms of thriller movies, 'Kingsman: The Secret Service,' ranks high on every fans' list. The different action scenes, the accurate casting, the incredible acting, and even the subtle dark humor make up for a fantastic watch. Particularly, the water training scene in the movie, one of the many nerve-wracking moments, excites fans the most. However, Olympic swimmer Caeleb Dressel has a different notion of the same.
ADVERTISEMENT
Article continues below this ad
The legendary swimmer who won five Olympic gold medals at the 2020 Tokyo Olympics broke down many aspects of the cinematic masterclass while judging different techniques used by the actors in the movie from a realistic perspective.
ADVERTISEMENT
Article continues below this ad
Caeleb Dressel debunks the swimming scene
Among the different training sequences in the movie, this scene ranks above the others in terms of favoritism.
It all starts with Taron Egerton, sharing a room with other agents. However, he wakes up to find the water level rising in the room, and within seconds is submerged underwater. Taking a deep breath, 'Eggsy' swims from corner to corner, trying to find an escape route. Not a fan of the same, Dressel breaks down every aspect of the movie. He explained how water is a powerful nature and everyone should respect it.
"This is one of my worst nightmares. I used to be able to not fall asleep at night because I had a fear of drowning. I have been swimming my whole life and I mean the water still can be very scary. It's one of the most dangerous forces of nature. And to be able to form a relationship with the water through swimming, it's beautiful," said Dressel.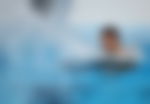 To barely catch a quick breath and swim around for a long time, confused Dressel, as even Olympic swimmers find that hard to do. The effort being made to open the door and find escape routes increases heart palpitations, leaving Dressel bewildered at how he did that, all while submerged underwater. Moreover, he even teased the actor for having a great lung capacity.
"I wasn't timing it but my guy's lung capacity must be gallons and gallons of air. He didn't even get like that good of a breath before he went down," said Dressel.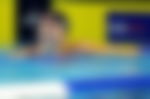 The importance of breathing in swimming
Furthermore, Dressel also revealed how one might feel dizzy losing their breath underwater.
ADVERTISEMENT
Article continues below this ad
While comparing himself to the scene where Egerton swims around underwater, Dressel spoke about how he holds his breath for the last few meters in a race. He explained how it gives a significant advantage to the swimmer to finish a stroke in full power.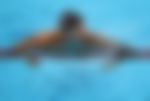 Finally, he spoke about the vision aspect underwater. The scene shows Egerton finding a door that may be an escape route. Dressel addresses the point of how difficult it is to see underwater, especially without goggles. The scene ends with Egerton, smashing a glass window to escape.
ADVERTISEMENT
Article continues below this ad
Despite Kingsman being a fantastic movie, it has its flaws that only an Olympic champion like Dressel could pinpoint. Do you agree with Caeleb's analysis?
WATCH THIS STORY- From Moneyball to Major League: Top Five Baseball Movies of All Time