WATCH: Michael Phelps Does His Iconic Back Slap at the Pickleball Tournament Against NFL Legend
Published 01/29/2022, 1:49 PM EST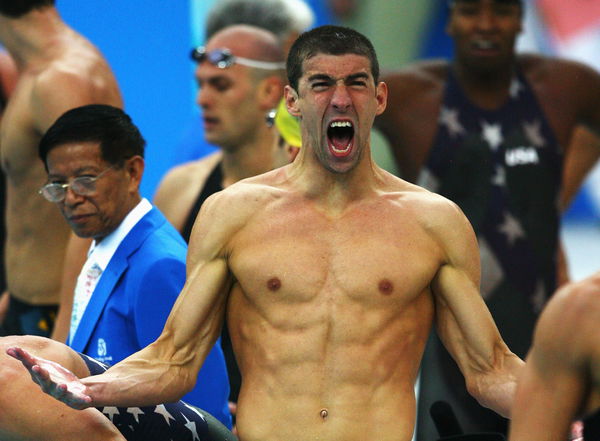 The stunning Michael Phelps is one of the best swimmers in the world. His legendary career fetched him an incredible amount of gold medals and other world records. Notably, out of all the fancy routines he has, there is one trademark move that he is known for even today.
The iconic body slap is important for any swimmer to get ready for their dive. However, in the recent pickleball match against Larry Fitzgerald, Phelps had the crowd head over heels, displaying his iconic move.
ADVERTISEMENT
Article continues below this ad
Michael Phelps has the crowd going wild
Pickleball is a combination of tennis, badminton, and table tennis. This is a sport that is picking up pace and has gained massive popularity as well. With NFL legend Larry Fitzgerald as his competitor, a huge crowd turned in to see the two giants clash in a game of Pickleball. Ahead of the match, Phelps performed an iconic back slap and had the crowd wild. A sight for sore eyes, it took fans down the memory lane.
A match full of power, pace, and long rallies, the NFL legend, Fitzgerald, certainly enjoyed the game against the great Michael Phelps. However, apart from all the drama and intensity of the match, it was the back slap that garnered the most attention.
ADVERTISEMENT
Article continues below this ad
Why do swimmers prioritize back slaps?
Although it looks scary with his long flubber arms going back and forth in a bone-chilling sight, it is vital for swimmers to prepare for the dive by doing backslaps. While most swimmers prefer a subtle approach, the aqua gladiator wants to let the entire world know he is coming. These slaps help all the muscles to relax, increase the blood flow and avoid cramps while swimming. Hence, it is indeed an important routine for most swimmers.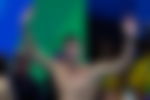 With the incredible physique he possesses, Phelps' back slap is one of the most iconic routines in modern-day sporting history. Notably, some would even say it is equivalent to Usain Bolt's signature 'Lightning Bolt' celebration. Well, is it? Let us know in the comments below.
ADVERTISEMENT
Article continues below this ad
WATCH THIS STORY- Oldest NASCAR Drivers on the 2022 Grid