WOW! Katie Ledecky Ties Michael Phelps' Record as Dominant Form Continues
Published 12/10/2021, 8:00 AM EST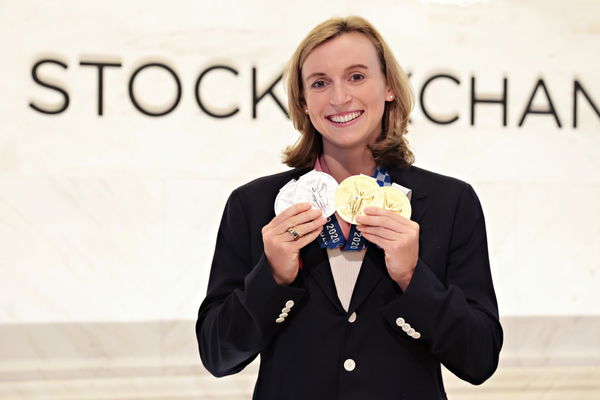 When Michael Phelps retired from the pool, team USA lost a legendary swimmer. He dominated the swimming pool for a long time, winning 23 gold medals in his career. Moreover, he won eight gold medals at the Beijing Olympics in 2008, announcing himself as the most successful swimmer in the sport. As he left the swimming pool for good, he left a huge void with his departure. However, some would say the pool has found its perfect replacement in Katie Ledecky.
ADVERTISEMENT
Article continues below this ad
After winning two gold medals and two silver medals at the Tokyo Olympics, Ledecky received worldwide attention. Now, she has gone ahead and tied Phelps' swimming athlete of the year award, winning it a record seven times.
ADVERTISEMENT
Article continues below this ad
Katie Ledecky ties Phelps' record
The talented swimmer was honored with the ' Female athlete of the year' award on Tuesday night at Golden Goggles in Miami. With that, she tied the record of Michael Phelps, winning the award a record 7 times. Notably, Katie won her signature events at Tokyo Olympics; the 800-meters and the 1500-meters. Although she could not win the 400-meters, she still finished with a silver medal at that event.
An honored Ledecky took to Twitter, expressing her emotions following her award.
"Thanks @USASwimming and the @SwimFoundation for a nice Golden Goggles in Miami! Great to be back with the Tokyo team and the USA Swimming family celebrating this past year. Thankful for the support from so many of you!" she said.
Notably, she previously won the award consecutively from 2013 to 2018. As for Phelps, he won the award back in 2004, 2007, 2008, 2012, 2014, 2015, and 2016. Still 24, it is likely that she would further extend her record in the coming years. Not to mention, she defeated Lydia Jacoby, Lilly King, and Regan Smith for the award.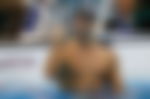 ADVERTISEMENT
Article continues below this ad
Caeleb Dressel wins Male athlete of the year
In the meantime, the male swimming athlete of the year went to Caeleb Dressel. This is the third time he won the award. Notably, he won five gold medals in Tokyo, becoming the deserving candidate of the honor. With Bobby Finke, Chase Kalisz, and Ryan Murphy being the contenders for the award, Dressel took home the prize for his sensational performances in Tokyo. The other awards went to Lydia Jacoby for Breakout Performer and Annie Lazor for Perseverance Award.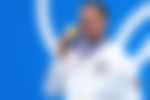 However, the night belonged to Katie Ledecky. With Paris Olympics 2024 in three years from now, do you think Katie will repeat her heroics from Tokyo?
ADVERTISEMENT
Article continues below this ad
WATCH THIS STORY- A Look into Cristiano Ronaldos State-Of-The-Art Luxury Hotel in New York, USA