18-Year-Old Erriyon Knighton Flatters in Front of Trayvon Bromell and Fred Kerley at Prefontaine Classic 2022
Published 05/28/2022, 6:32 PM EDT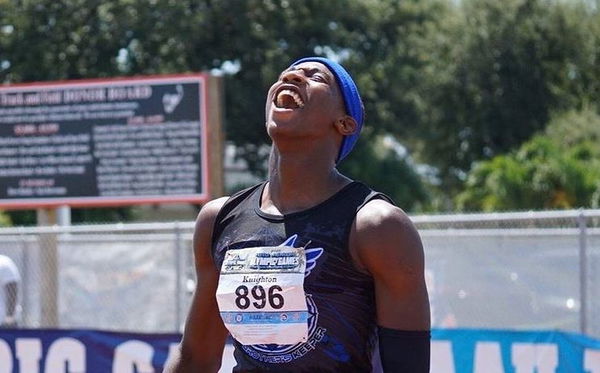 In one of the most anticipated races of the season, the men's 100-meter race was brilliant. With stars like Andre De Grasse, Fred Kerley, and Trayvon Bromell, they put on a show for all fans in attendance. However, the race did not finish well for Erriyon Knighton. Dubbed to be the new Usain Bolt, he couldn't match the pace of his senior athletes finishing in sixth place.
Instead, Bromell raced to victory with a sensational finish. Olympic silver medalist Fred Kerley finished second, while third place went to Christian Coleman. A wondrous race from start to finish, Knighton gained valuable experience from his peers and continues to improve.
ADVERTISEMENT
Article continues below this ad
Erriyon Knighton couldn't finish well
The talented 18-year-old started the race with a tough group and only finished in sixth place. However, the 200-meters Olympic gold medalist Andre De Grasse, surprisingly, finished last. It was a poor outing for the Canadian sprinter, as he could not muster up a good race. Even though Knighton finished sixth, it is great for him to get an insight into his competitors and prepare for the next race.
Bromell set a time of 9.93 seconds with Kerley finishing the race in 9.98 seconds. Coleman took third with a time of 10.04 as Noah Lyles finished closely behind with a 10.05. In a stacked line-up, this was one of the fastest races this season, as they put in sensational times to entertain the fans.
As for Knighton, the 2022 World Athletics Championships will be the day for him to get worldwide courage. Hyped up, to be the next Bolt, he has all the hallmarks to be a great sprinter.
ADVERTISEMENT
Article continues below this ad
The next Usain Bolt?
Ever since he broke Usain Bolt's junior under-20 200-meters record, he has been on everybody's minds. Although his 100-meters is not up to the mark, his 200-meters performance has been phenomenal. He clocked 19.49 seconds at the LSU Invitational, becoming the fourth-fastest man in the 200-meters. Hence, the wunderkind has bags of potential, ready to be untapped.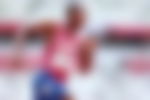 As a young sprinter who gets great exposure from all corners of the world, Erriyon Knighton is indeed a generational talent. By being just 18, he is young enough to provide a charge at the end of his career. Thus, the 2022 World Championships will be the platform for him to make a name for himself. Can he get better?
ADVERTISEMENT
Article continues below this ad
Edited By: Simar Singh Wadhwa