Italian High Jumper Pays A Unique Tribute to Ukrainian Athletes who Could Not Make it to World Championships
Published 03/21/2022, 9:15 AM EDT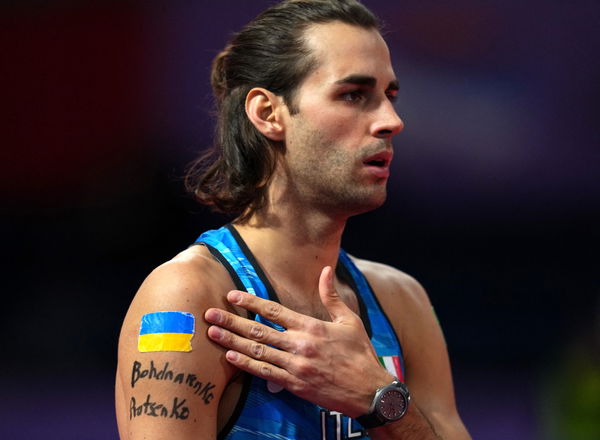 Even during the ongoing crisis, the Ukrainian athletes are out there, trying to give their best in the world of sports. Many Ukrainian athletes are performing at the World Athletics Championships in Belgrade.
However, there are several athletes who could not make it to the World Championships. However, the Italian athlete Gianmarco Tamberi had a unique way to make their presence felt at the games. He wrote the names on his arm as a way to remember his fellow athletes.
ADVERTISEMENT
Article continues below this ad
Italian athlete has a unique way to remember fellow Ukrainian athletes
ADVERTISEMENT
Article continues below this ad
Gianmarco Tamberi won the Bronze medal at the Indoor World Championships. Tamberi is the current Olympic champion, previously winning a Gold Medal at the Tokyo Summer Olympics. He is also the 2016 World Indoor champion.
At the high jump finals, Tamberi got a clearance of 2.31m. This was identical with the Silver medal winner  Loïc Gasch. However, after the final judgment, Tamberi was awarded a bronze medal position with New Zealand's Hamish Kerr.
As a mark of support, Tamberi had written the names of his fellow athletes Bodhan Bondarenko and Andriy Protsenko on his arm, along with the Ukrainian flag. Bodhan Bondarenko and Andriy Protsenko are both Ukrainian high jumpers who could not make it to Belgrade.
Bodhan Bondarenko is Ukraine's best high jumper. He was the 2013 World Champion. In addition, he was also the, 2014 European champion, and 2016 Olympic bronze medalist. Bondarenko is one of the tallest high jumpers.
Meanwhile, Andriy Protsenko is the 2014 World Indoor bronze medalist and European silver medalist. Both of these talented high jumpers could not make it to Belgrade.
Gianmarco Tamberi a Belgrado con una piccola bandiera dell'Ucraina sul braccio e due nomi: Bodhan Bondarenko e Andriy Protsenko, due saltatori ucraini che non sono riusciti ad arrivare ai Mondiali di Belgrado 🇺🇦🙏#WorldIndoorChamps pic.twitter.com/4w2tkOwy0w

— Eurosport IT (@Eurosport_IT) March 20, 2022
Tamberi made sure that they were not forgotten as he clinched the Bronze medal with their names on his arm.
Ukrainian athlete Yaroslava Mahuchikh wins historic Gold at World Championships
ADVERTISEMENT
Article continues below this ad
Yaroslava Mahuchikh made Ukraine proud after she won the Gold medal at the women's high jump finals. Her journey to Belgrade was not easy. She had to flee from her country and hide in a cellar for days. After that, she took undertook a 2,200km journey to make it to Belgrade.
Standing ovation for the Ukrainian national anthem played in honor of Yaroslava Mahuchikh for her gold medal in high jump at the world athletics indoor championship in Belgrade pic.twitter.com/lGcQCl7EXL

— amb Yahel Vilan (@AmbassadorVilan) March 19, 2022
ADVERTISEMENT
Article continues below this ad
WATCH: Christian Coleman Stunned by Marcel Jacob's in Extremely Close Call at 60m World Championship Race
With a clearance of 2.02m, Yaroslava earned her Gold Medal. The audience awarded the 20-year-old athlete with a standing ovation, for her determination and perserverance in overcoming many odds to make it there.