Katie Ledecky Does Not Want Fans to "Feel Sorry" for Her 200m Failure in Tokyo Olympics 2020
Published 10/08/2021, 12:22 PM EDT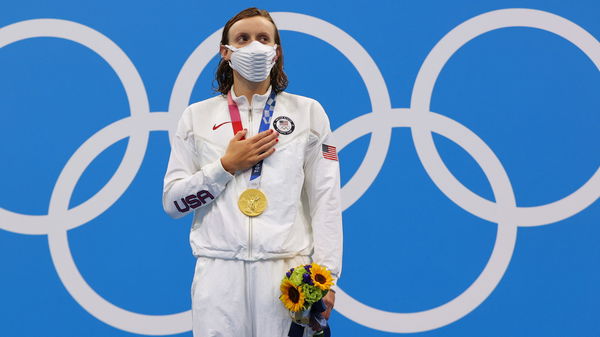 ---
---
The 2020 Tokyo Olympics saw Katie Ledecky once again dominate the swimming competitions. She bagged both gold and silver medals to increase her Olympic medal tally. The incredible swimmer won the 800 and 1500-meter races, further establishing her reign underwater.
ADVERTISEMENT
Article continues below this ad
However, she couldn't win the 200 and 400-meter freestyle races. Prodigy Ariarne Titmus was to blame for one of the biggest upsets in the competition's history, as she paddled to victory in both races. Even though Ledecky finished fifth in the 200-meter race, she remains unfazed and focused.
ADVERTISEMENT
Article continues below this ad
Katie Ledecky feels lucky to compete
After winning four gold medals in Rio, Ledecky was aiming for glory, heading into Tokyo. However, during the 2019 World Championships in Gwangju, Titmus knocked her out and took home the 400-meters competition. However, even as she tasted defeat at the hands of Titmus yet again, she was happy to compete at the Olympics, despite not being able to win the race.
"I don't want anyone to feel sorry for me, or feel silver or any other medal besides gold is a disappointment or anything. I would much rather that people be concerned about people who are really truly struggling in life. It's a true privilege to be at the Olympics, let alone an Olympics in the middle of a pandemic. So many people in the world are going through a lot of hard things; I'm just lucky to be here," said Ledecky.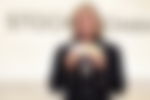 In times when the Covid-19 pandemic has caused grief, she was happy to compete in the Olympics. Notably, the mega-event was rescheduled from 2020 to 2021. Significantly, this gave athletes more time to prepare for the games. Hence, Ledecky took that chance with aplomb.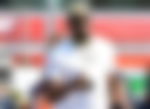 A taste of gold in Tokyo
Although the time to prepare for the games was long, Ledecky could not find a pool to train. They shut most of the pools because of the pandemic, which forced a lot of swimmers to find other means. Hence, she suited herself to a backyard pool and set out on her road to Tokyo.
ADVERTISEMENT
Article continues below this ad
Finding training facilities was extremely hard, but Ledecky turned negatives into positives. By taking public health classes, she finished her degree, which helped her to prepare for the challenges ahead. Gripped by the unprecedented situation, she admitted it was a tough time in her career.
"I think I've grown a lot, both in and out of the pool. I'm experienced now and just know how to manage both the physical and mental aspects of the sport. If I have a bad practice, I don't let it get to me," said Ledecky.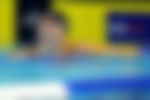 Despite that, she won two gold medals in her signature competitions, which cemented her legacy as one of the greatest swimmers of all time. Now, her eyes are fixated on the 2024 Paris Olympics. Will Katie repeat her heroics from Rio and Tokyo?
ADVERTISEMENT
Article continues below this ad
WATCH THIS STORY- A Look Inside Simone Biles' Lavish Million Dollar Mansion