WATCH: Matt Hughes Details his Horrifying Train Accident in this Interview
Published 05/27/2021, 6:59 AM EDT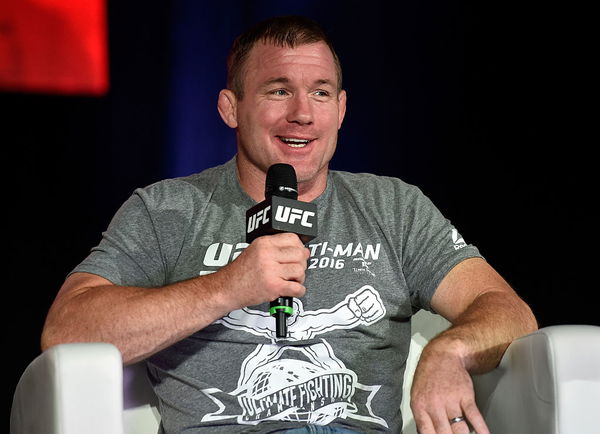 ---
---
One of the greatest welterweights to ever grace the octagon, Matt Hughes' name instantly puts an image of dominant wrestling and pressure fighting. However, as a fan of a sport, his name also brings the recollection of a devastating accident that occurred outside the octagon. On June 16, 2017, the UFC Hall of Famer was driving his pickup truck near his home in Montgomery, Illinois.
ADVERTISEMENT
Article continues below this ad
Because of improper markings near a railway crossing, Hughes crossed in front of an approaching train, meeting with a severe crash. As a result, the fighting legend had to be hospitalized with a serious head injury. The injury, Grade-3 diffuse axonal injury, saw him being put in a medically induced coma for 19 days.
In his most recent appearance on the MMAJunkie show, 'Legend 2 Legend' with Burt Watson, Hughes opened up more about the accident that changed his life forever.
ADVERTISEMENT
Article continues below this ad
He said, "I had the worst brain injury possible. Some people say that I was messed up before the train, but my brain took the big hit. The train was only going about 39 miles an hour, but I think it was carrying like 60 tons of coal so it wasn't going to slow down with that load."
Matt Hughes continues to serve as an inspiration to many post-accident
When asked why he could not check for the oncoming train, Hughes explained that the poor condition of the railway tracks and crossings in his area was the primary reason for his tragic accident.
"The track is so bad. When you turn to the right it is at such an angle that all you can see is the headrest on the passenger seat. So it is really bad, and the track is so narrow that you really don't look to the side. You're just worried that some car is going to come across at you. It is a country crossing so there is no cross-arms or anything like that."
ALSO CHECK: UFC Legend Matt Hughes' best finishes inside the octagon
Hughes has talked about the depressive time that he has had to face since the accident. He was admittedly contemplating taking his own life at one point. Hughes shared during the interview that he doesn't face any physical issues with the injury now, but the process of recovery is still ongoing.
ADVERTISEMENT
Article continues below this ad
Since the coma, Hughes has relearned walking and his speech impediment has also improved massively. The former fighter has still got to go through physical therapy thrice a week and cognitive therapy once a week.
ADVERTISEMENT
Article continues below this ad
Hughes' battle with one of the most devastating injuries a human can face has been an inspiration to many. He continues to routinely put out his journey of rehab online, urging others to not lose hope during their battle.