WATCH: Nikita Mazepin Completes Haas Seat Fit Ahead of F1 Debut
Published 02/18/2021, 3:50 AM EST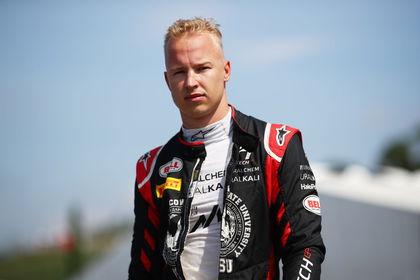 ---
---
Russian driver Nikita Mazepin will race for Haas F1 during the upcoming season. The Russian had his first day at the factory on February 17th. While there, he had his seat fit take place. 
ADVERTISEMENT
Article continues below this ad
The 21-year-old will form one half of a rookie driver line-up for the American team. He makes the switch from Formula Two where he raced for Hitech Grand Prix.
He finished 5th in the Drivers' Championship in F2 having garnered two feature race victories and four 2nd-place finishes.
ADVERTISEMENT
Article continues below this ad
The Russian has endured a rough off-season after being embroiled in certain controversies off the track. However, that is all in the past as he has been reprimanded by the team appropriately.
Mazepin's first day at the Haas factory
Mazepin has his first look at the Haas factory in Banbury, UK. After the seat fit, he said, "First day at the factory for me. Extremely pleased to finally meet the guys after a very long period of waiting.
"Extremely happy with the way they have gone and done the seat fit. I've also met my engineers and now just looking forward to getting out in Bahrain."
The Russian has looked beyond the team's difficulties. He said, in a prior interview, "I'm very much looking forward to it anyway because graduating to F1, it's going to be exciting, regardless of how performant the car is.
"I think at this stage in my career now being a young driver it's irrelevant to speak if the car is good or not. I'm obviously aware that the team's had a difficult year.
ADVERTISEMENT
Article continues below this ad
"However, my focus is on getting ready for F1, the car is very different to what I'm used to. And the calendar is going to be almost double what I'm used to."
American team's expectations for 2021
The American team had a very poor 2020 season. This saw them finish 9th in the Constructors' Championship with just 3 points. They will be looking to bounce back from that.
ADVERTISEMENT
Article continues below this ad
The team had said in January that they are treating 2020 as a transition season. They will be focusing their development time on the 2022 car, which will be part of the new regulations change.