'We're Ready to Go': Lakers' LeBron James and Anthony Davis Fire Ultimate Warning to Rivals
Published 05/16/2021, 6:00 AM EDT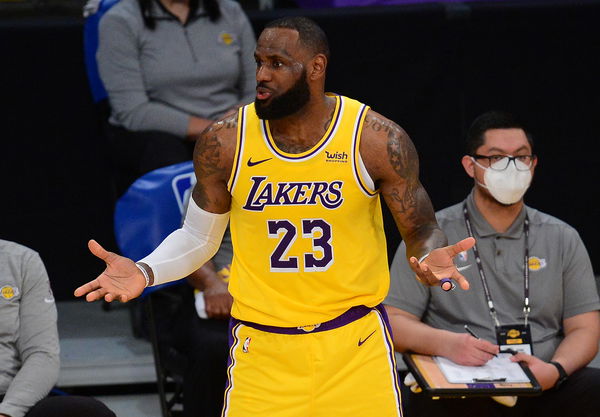 ---
---
The Los Angeles Lakers are currently in seventh place as they look to win their last game against the New Orleans Pelicans. A win in their last game and results elsewhere for Portland would propel them into the sixth position. But as of right now, the organization is all set to enter the play-in tournament where they might face the Golden State Warriors. Having a win-loss record of 41-30, they look to change their fortunes in their last game. LeBron James and Anthony Davis sat down in a press conference to discuss the possibilities for the franchise.
ADVERTISEMENT
Article continues below this ad
Anthony Davis and LeBron James are guiding the Lakers to the playoffs
ADVERTISEMENT
Article continues below this ad
Last year, both these players were influential in bringing the title back to Los Angeles after 2010. The organization bought in Davis to supplement James as they were dominant on the court.
Moreover, the Lakers are aiming to do a two-peat this time around. However, injuries to LeBron and AD derailed their plans of finishing in the top half.
The charismatic duo sat down with the reporters to discuss the prospects of how they could enter the playoffs.
"Let the chips fall where they may. Simple as that. We're ready to go," said LeBron
"Same way, we're ready to play whatever game if its you know, playoffs if we are 6 seed or we gotta play in the play in again for the seventh seed um as a seventh seed then you know we don't care, so it's not gonna stop us one way or other, which one we do to take our mind off our goal.
"You know not gonna give us any discouragement because you know we are not in the top six but you know we don't really care. We control what we control and that's uh winning this last ball game and like you said let the chips fall away. Whatever you say," said Davis.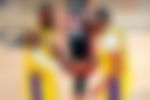 The organization needs to reach the playoffs considering its illustrious history.
James' injury troubles hampered the franchise's progress
Notably, James was out with an ankle injury which forced him to miss out on a lot of games. With AD alone, the franchise couldn't get their season underway as there was no support. With a player efficiency rating of 24.2, the importance was there for everyone to see.
ADVERTISEMENT
Article continues below this ad
But both these players need to perform for the Lakers to endure a deep run. To sum up, a victory against the Pelicans would do them a world of good.
ADVERTISEMENT
Article continues below this ad
The "Akron Hammer" and the "Brow" are key players to the franchise. Basketball is a team game like any sport, but these two players will always be crucial to the Lakers' success.