World Record Holder- Iuliia Kaplina Reduced to Tears After Failing To Qualify For the Tokyo Olympics Finals
Published 08/04/2021, 2:47 PM EDT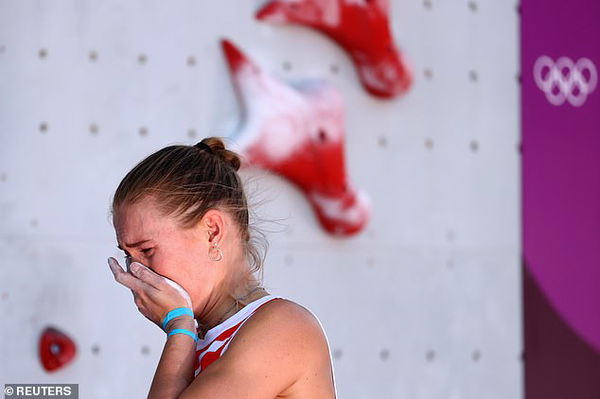 ---
---
The World Record Holder, Iuliia Kaplina, broke down because of her dramatic fall, leading to a failure of qualifying in the speed climbing event in the Tokyo Olympics, this Wednesday.
ADVERTISEMENT
Article continues below this ad
Iuliia Vladimirovna Kaplina is a Russian sport climber who has won multiple speed climbing events and has also set multiple world records. Currently, she is the world record holder in women's speed climbing. She rushed up a 15-meter wall in 6.96 seconds in November.
WATCH STORY- VIDEO: Great Britain's Katarina Johnson-Thompson Gets Disqualified Despite Braving Hamstring Injury to Heroically Finish Race at Tokyo Olympics 2020
ADVERTISEMENT
Article continues below this ad
Kaplina breaks into tears
Leading Great Britain's Shauna Coxsey by some distance, Kaplina's victory seemed certain considering the advantage she had going up the wall. Alas, the 28-year-old lost her composure with two handles and the world record holder ended up hanging in the air. Realizing that her journey had ended way too soon in the tournament, a rush of emotions took over her.
Meanwhile, her British rival Coxsey recorded a time of 9.65 in the speed qualifier in Tokyo to see her finish on 16th.
Sobbing her way out of the tournament was not only heartbreaking for her but also her country. They had high expectations from their star performer, but won't see the medal tally increase. Having set the record at the 2020 European Championships held in Moscow, she set the bar high for not just herself but also her competitors.
Hard defeat for Iuliia Kaplina
ADVERTISEMENT
Article continues below this ad
Having finished 17th in the tournament was indeed a matter of letting herself down. Poland's Aleksandra Mirosław finished top in the speed qualifier with 1.00 points; Anouck Jaubert of France Song Yiling of China finished second and third, respectively.
ADVERTISEMENT
Article continues below this ad
The rankings in these three areas will be multiplied and combined to plan a system of ranking. The final eight climbers with the lowest rankings will advance to the final phase of the tournament.