Eugenie Bouchard Labels Novak Djokovic a 'Cry Baby' and Rafael Nadal a 'Beast'
Published 08/25/2021, 12:43 AM EDT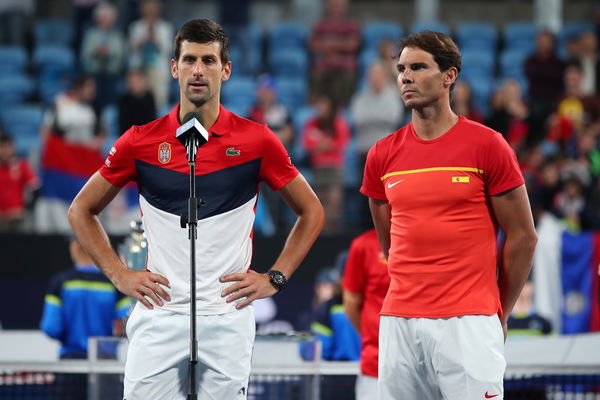 ---
---
The build-up to the US Open gets entertaining with every tick of the clock. As the tournament edges closer, the buzz around its stars has gotten louder than before. However, appearing in a rather fun segment, Eugenie Bouchard's recent comments on Novak Djokovic and Rafael Nadal are making headlines, with fans creating banter off it.
ADVERTISEMENT
Article continues below this ad
Eugenie Bouchard is a popular face among fans, given her shenanigans off-court. A pure entertainer, she is undoubtedly a delight to watch, even while not playing tennis. Notably, ever since her shoulder injury earlier this year, she has made more appearances on camera than on the court.
ADVERTISEMENT
Article continues below this ad
From interviews to talk shows to one too many fun-filled segments, Eugenie has become a fan favorite. However, things got pretty feisty after her recent comments on Rafael Nadal and Novak Djokovic, in yet another entertaining video.
Uh-oh…
The Canadian is known for her being her usual self; she's chirpy, hilarious, full of life, and unafraid to say what's on her mind. Hence, her recent game show video was perfect for her. In her new segment, Eugenie had to say out loud the first thing that she resonated with, listening to a word. Now, while her response to the word 'Nadal' was hugely appreciated by the maestro's fans, the Serbian audience was not entirely happy with her response associated with Novak.
Nothing but banter though, responding to the word 'Nadal', Eugenie said, "Beast." However, when selecting a title for Novak, she said, "crybaby," raising a few eyebrows.
Certainly, her response to Novak is in connection with his recent antics at the 2020 Tokyo Olympics. World No. 1 Novak Djokovic is known for wearing his heart on his sleeve, every time he takes to the court. In a display of sheer passion, Novak isn't one to hold himself back from expressing his emotions. However, while his feelings are upheld and understood, his way of expression is often criticized.
Bowing out of the Summer Games, Novak smashed a few racquets, while sending a few flying into the stands. Post his bronze medal match defeat, he even retired from his mixed doubles bronze match, citing injury concerns. However, he was put under the radar for his alleged arrogance, depriving his partner of a shot at a medal.
Watch This Story: How Roger Federer, Rafael Nadal, Novak Djokovic, Serena Williams, and Others Travel
ADVERTISEMENT
Article continues below this ad
Novak Djokovic returns
Given his form this season, the Serbian 'G.O.A.T.' was the favorite for gold in Tokyo. Hence, his defeat was a tough pill to swallow. However, after skipping the events ahead of the mega-entertainer, Novak Djokovic has begun training for the US Open. Not long now until the maestro makes a comeback and repairs his tarnished reputation.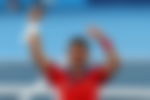 With both Rafael Nadal and Roger Federer out, Djokovic fans look at the US Open as an opportunity to settle the 'G.O.A.T.' debate. However, the wounds from the Olympic defeat are still fresh. Can Novak edge past the other members of the 'big 3' and increase his Grand Slam tally to 21? Or is a repeat of Tokyo possible?
ADVERTISEMENT
Article continues below this ad