"If Roman Reigns Ever Goes to AEW..": HBO's Superhit Show Makes Tony Khan Mainstream With Unexpected Reference
Published 05/20/2022, 7:32 AM EDT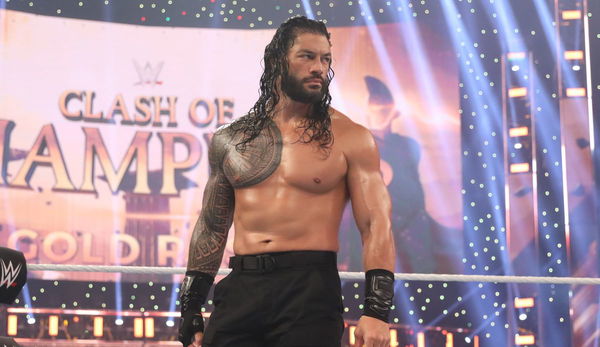 The undisputed WWE Universal Champion, Roman Reigns, is one of the WWE's most significant figures. Reigns is the company's biggest attraction, and it is unimaginable that he will depart to join another pro-wrestling promotion. However, on the recent episode of HBO Max's Hacks, Roman Reigns and AEW were referenced.
ADVERTISEMENT
Article continues below this ad
In the episode, Trust The Process, Angela Elayne Gibb, who portrays Robin on HBO's Hacks, mentions Roman Reigns when speaking with her son.
ADVERTISEMENT
Article continues below this ad
In one scene from the most recent episode, Robin asks her son, Marcus, "If Roman Reigns ever goes to AEW, can I at least DM him [Marcus' EX]?". To which Marcus (Carl Clemons-Hopkins) replied, "sure mom if Roman Reigns ever goes to AEW, you can DM my ex-boyfriend."
The context of this reference is Marcus's mother and his ex-boyfriend Wilson are both wrestling enthusiasts, henceforth she still wants to chat about wrestling with him. Additionally, HBO's Hacks certainly didn't make the pro wrestling reference for the first time.
Previously, during Season 1, the show made a WWE reference. In that episode, they discussed the Royal Rumble. Wilson also shares how much he enjoys watching Trish Stratus, Ivory, Jaqueline, and Lita.
Will Roman Reigns Ever Join AEW?
ADVERTISEMENT
Article continues below this ad
WWE Undisputed Universal Champion Roman Reigns is one of the greatest wrestlers in the company's history. He made his debut in WWE in 2012, as a part of the iconic The Shield stable. However, the stable was split in 2014 and they were pushed as the individual wrestler. Additionally, Roman Reigns emerged as one of the WWE's top wrestlers.
The Tribal Chief is having the finest run of his career and he is unquestionably the top wrestler in the business. Moreover, the topic of whether The Tribal Chief will join AEW has been circulating for some time. Since AEW has certainly put up a strong battle against WWE and cemented its place on the world stage. However, it is quite unlikely that the Tribal Chief AEW will join AEW since Vince McMahon had spent six years developing him, and would never let him depart.
ADVERTISEMENT
Article continues below this ad
Watch This Story: WWE Superstars With The Highest Number of WrestleMania Matches
Do you think Reigns will join AEW at some point? Please leave a comment and let us know what you think.
Edited By: Vibhanshu Kumar