Rare Photo Shows Mike Tyson 'Smiling' While Stone Cold Steve Austin Gives Him the 'Look'
Published 05/04/2022, 11:00 AM EDT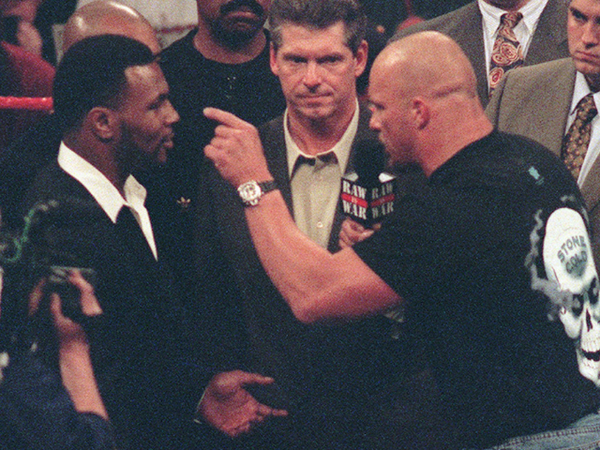 The Attitude era had provided WWE fans with many iconic moments such as the Montreal Screwjob, Steve Austin vs McMahon, The Undertaker Vs Mankind Hell in The Cell, and many more.
ADVERTISEMENT
Article continues below this ad
Likewise, One of the iconic moments came at WrestleMania XIV when legendary boxer Mike Tyson acted as a ring enforcer for the main event Steve Austin vs Shawn Michaels Match.
In addition, on Twitter, a Rare Photo featuring Mike Tyson emerged. Which was taken after Steve Austin defeated Shawn Michaels at WrestleMania XIV.
ADVERTISEMENT
Article continues below this ad
"Iron" Mike Tyson with the new World Wrestling Federation Champion,"Stone Cold" Steve Austin,at the end of the WrestleMania XIV Pay Per View pic.twitter.com/Nclg2GkuaC

— Sports-Cards-Photos (@SportsTradingC4) May 4, 2022
Following the win at Royal Rumble 1998, Austin was the no.1 contender for the WWF Championship against Shawn Michaels. However, just before the WrestleMania XIV, Vince McMahon introduced Tyson as the special guest referee for the bout.
Additionally, McMahon referred to Tyson as the "baddest man on the planet."McMahon's statement enraged Austin. He interrupted McMahon in the middle and flicked his finger at Tyson on the ring.
Following this, it forced McMahon to revise Tyson's role for the bout, and he made Tyson a special guest enforcer in the main event.
During the bout, Tyson donned a DX t-shirt to signify his opposition to Austin. However, after Austin defeated Michaels and won the WWF championship, Tyson held Austin's 3:16 t-shirt, which stunned the entire arena.
Mike Tyson is a WWE Hall of Famer
Mike Tyson's name is self-explanatory. 'The Baddest Man On The Planet' at the age of 20, he became the world's youngest champion. Iron Mike is undoubtedly one of the greatest professional boxers of all time.
ADVERTISEMENT
Article continues below this ad
In addition, Tyson also appeared on several occasions at WWE. Iron Mike's last WWE appearance was in 2010 when he competed in a tag team bout alongside Chris Jericho against DX. Moreover, in the match, he switched sides and knocked Jericho out.
Moreover, Tyson was inducted into the WWE Hall of Fame in 2012–by D-Generation X.
Watch This Story: WWE Superstars With The Highest Number of WrestleMania Matches
ADVERTISEMENT
Article continues below this ad
Tyson mentioned in his Hall of Fame speech that he always wanted to be a wrestler since he grew up watching wrestling legends like Bruno Sammartino, The Moondogs, Iron Sheik, and Captain Lou Albano.