2-Time WWE Champion's Ex-Wife Passes Away
Published 05/03/2022, 11:30 AM EDT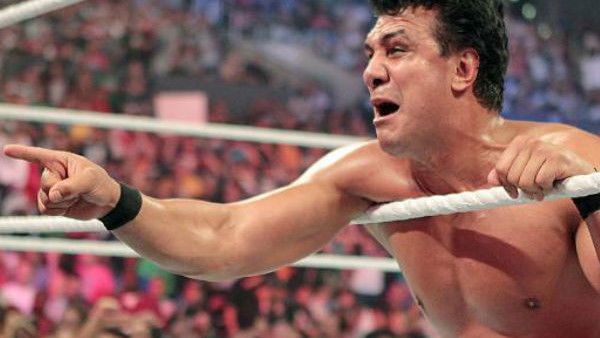 On May 2, Former WWE superstar Alberto Del Rio shared extremely unfortunate news. On Twitter, Del Rio shared that his ex-wife and the mother of his three children, Angela Velkei, has sadly passed away.
ADVERTISEMENT
Article continues below this ad
Angela Velkei passed after being hospitalized at the San Jose Satellite Hospital for many days. Del Rio wrote an emotional message for his ex-wife in a series of tweets.
Es con dolor en mi corazón y con el alma desgarrada que oficialmente confirmo el inesperado y lamentable fallecimiento de Ángela Velkei, madre de mis tres hijos. Ángela fue un ser humano excepcional y una madre ejemplar para mis tres hijos. Agradezco a todos y todas las personas pic.twitter.com/o7FqB5Oqzp

— Alberto El Patron (@PrideOfMexico) May 2, 2022
ADVERTISEMENT
Article continues below this ad
Del Rio announced on Twitter that with a heavy heart and a torn soul confirms his wife Velkei, after fighting with all his strength until the last second, passed on Saturday, April 30,
He stated, "Thank you so much, Angela. We miss you like you have no idea. But I swear to you that our children will grow up to be good men and women like you always asked me to. Dad will be here for them. Rest in peace."
"In this world, you were always my angel and so I always let you know. Now you truly become an angel watching over us from heaven. You will always be my angel. Our angel. We love you, Angela. Thanks for being you."
In addition, Alberto Del Rio also expressed gratitude to those who came out in support to give blood and platelets and to the media for spreading the news so that more people could come to help them. Earlier, Del Rio posted a video on social media appealing to people to help his ex-wife by donating blood and platelets. However, Velkei sadly passed after two days.
La madre de mis hijos está muy delicada de salud. Por favor, si están en CDMX, ayúdennos a ayudar a Ángela. Necesitamos con URGENCIA múltiples donantes de sangre y donantes de plaquetas que puedan ir al Hospital San Jose Satellite S.A. of C.V en CDMX.

Contacto: +1-210-849-5640 pic.twitter.com/4o4eFopFAZ

— Alberto El Patron (@PrideOfMexico) April 28, 2022
In 2012, former WWE champion Del Rio married Angela Velkei. However, they separated in 2016.
WWE career of Alberto Del Rio
Alberto El Patron aka Alberto Del Rio is WWE's former champion. During his career, he became the first Mexican-born wrestler to win the WWE Championship. In addition, he had also won the World Heavyweight Championship, and the United States Championship twice.
Del Rio had one of the most iconic entrance music. However, on his debut, he fought with Rey Mysterio. Where he defeated him and won his debut fight. Throughout his career, he had multiple feuds. However, his greatest rivalry was against Dolph Ziggler.
ADVERTISEMENT
Article continues below this ad
One of their most memorable matches was when after retaining the WWE title at WrestleMania 29. Alberto Del Rio once again took on Jack Swagger and Zeb Colter at Raw in a handicap match. Del Rio was exhausted and hurt after the bout.
However, immediately Ziggler came in and cashed in his MITB briefcase to win the World Heavyweight. Moreover, Del Rio won the Championship from Del Rio.
Watch This Story: WWE Superstars With The Highest Number of WrestleMania Matches
ADVERTISEMENT
Article continues below this ad
However, his last appearance on WWE was at SmackDown, when he was beaten by John Cena. After that, Del Rio was suspended for thirty days for violating WWE's wellness policy. Since then he hasn't appeared again in WWE.