"At the Doctor's Right Now": Ric Flair in Agony Before Last Match as Medical Issue Intensifies
Published 07/21/2022, 7:30 AM EDT

For the last time in the ring, Ric Flair is ready to showcase his athletic prowess once again. Given his age, it is not easy to return to the ring after a period of inactivity and absence. Additionally, The Nature Boy, 73, has recently battled against some serious health challenges, yet he is as energetic as ever.
In a conversation with the 'Busted Open' Podcast prior to the bout, Flair recently highlighted the particularly serious problems he is experiencing.
ADVERTISEMENT
Article continues below this ad
Talking on the podcast, The Nature Boy was questioned about his health and how he was feeling before the match. Flair replied, "I've got plantar fasciitis, if I'm pronouncing that correctly, on the bottom of my foot. Other than that, I am perfect, but that damn thing is sore as sh*t. I'm at the doctor's right now. [22:40-22:51]"
Plantar fasciitis is a condition that makes it difficult to walk, jump, stand for extended periods of time, and engage in other activities since it affects the thick band of tissue between the heel bone and toe. Given this, he can be impacted during the fight. However, as per Flair, aside from his Plantar Fasciitis, he is in excellent shape and this won't affect him during the battle.
Moreover, when asked if it would impact the fight, he replied, "I would just deaden it if I had to, you know me, but it affects me daily. It's hard running the ropes with that damn center of your foot for some reason. Everybody knows that the middle of your foot is so damn sensitive for anything right. [22:55-23:15]"
ADVERTISEMENT
Article continues below this ad
Ric Flair will make his final in-ring appearance on July 3
The excitement among the pro wrestling fans is really high to hear "Wooo" in the ring for one more time. Recently, Flair shared a blistering promo video where he was covered in blood after an assault from his final match rival Jeff Jarrett and Jay Lethal. Fan interest in the show has undoubtedly increased as a result of the promo.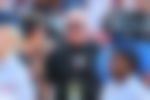 The Nature Boy's final match at Starrcast V will take place on July 31 at the Nashville Fairgrounds. The arena is sold out and there might be many prominent figures who will attend the event. Obviously, his daughter Charlotte Flair will also attend the event. However, there is no doubt that the final outcome will be intriguing to watch.
ADVERTISEMENT
Article continues below this ad
Watch This Story: Dwayne Johnson's Daughter Simone to The Undertakers Daughter Kaia – Meet Daughters of Top WWE Stars