Brock Lesnar's Arm Length Compared to 'Terminator' and Bodybuilding Legend Arnold Schwarzenegger Yields Puzzling Outcome
Published 06/22/2022, 2:30 PM EDT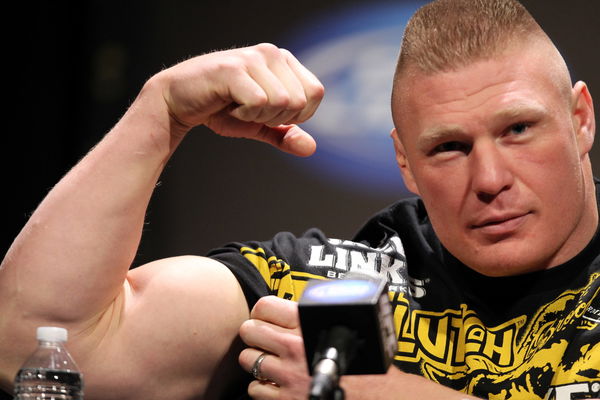 WWE features many wrestlers whose physiques are good enough to challenge many professional bodybuilders. Given that both professionals had to go through a lot of challenges and intense training. When two gigantic giants are present, it is only reasonable to wonder who is bigger. Many individuals brought up this subject in regard to Brock Lesnar and Arnold Schwarzenegger.
ADVERTISEMENT
Article continues below this ad
The Beast Incarnation has wowed the world with its dominance across many industries. One of the most popular professional wrestlers in the world right now is Lesnar. Additionally, everyone knows Lesnar showed his combat skills by winning the UFC. With his Beast persona, Brock Lesnar impressed many people.
ADVERTISEMENT
Article continues below this ad
Arnold Schwarzenegger, on the other hand, has been one of the most well-known figures in the world. Austrian Oak' has established himself as a legendary bodybuilder. Along with being a legendary bodybuilder, he is also a successful action actor and entrepreneur.
Notably, he was also the former governor of California. Although Schwarzenegger is 74, his muscles are still in good shape considering that he was a professional bodybuilder.
Brock Lesnar vs Arnold Schwarzenegger, whose physique is huge?
Seven times, Mr. Olympia is an inspiration to many for his dedication and commitment. Notably, Lesnar revealed that the Austrian Oak was his motivation, and Schwarzenegger inspired The Beast to achieve a massive physique. It's debatable how close and powerful he is to Arnold Schwarzenegger.
ADVERTISEMENT
Article continues below this ad
According to reports, Arnold Schwarzenegger had an upper arm circumference of 22 inches after a good pump during his prime. The 22-inch biceps are quite astounding, and one of his secrets for building such sleeve-busting pythons was a workout method known as "21s."
Interestingly, Brock Lesnar in comparison has the same 22 inches in upper arms. Taking inspiration from Austrian Oak, he had successfully matched his physique.
Watch This Story: Dwayne Johnson's Daughter Simone to The Undertaker's Daughter Kaia – Meet Daughters of Top WWE Stars
ADVERTISEMENT
Article continues below this ad
Additionally, both have similar physiques. Schwarzenegger has a chest measurement of 57 inches. Meanwhile, Lesnar is only a few inches behind him at 55 inches. They both stand 190.5 centimeters tall.
What do you think about Brock Lesnar's physique, similar to that of Arnold Schwarzenegger? Please share your thoughts in the comments below.