Fans' Emotions Run High as Triple H Flips WWE on Its Head Within a Month of Takeover from Vince McMahon
Published 08/06/2022, 8:00 AM EDT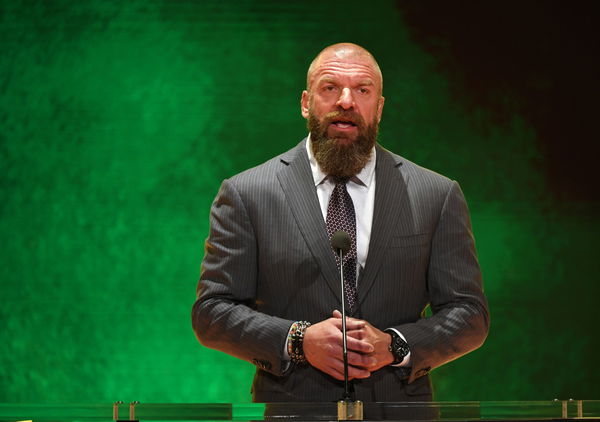 Under HHH's reign, one thing is for sure: expect the unexpected. After taking over as Head of Creative less than a month ago, Triple H alongside his wife and chairperson Stephanie McMahon has already made some significant changes that are igniting the passion of the WWE Universe.
Similar to his wrestling career in WWE, The Game is now dominating and catching the interest of several new and old fans. It all started at the Biggest Party of the Summer, where the WWE universe saw what Hunter has to offer.
ADVERTISEMENT
Article continues below this ad
After SummerSlam, he delivered what many consider to be the best RAW show in recent times. Meanwhile, the Friday Night SmackDown was filled with many surprises and excitement as Karrion Kross and Scarlett made their comebacks.
If you have missed it, Roman Reigns addressed the WWE Universe alongside The Bloodline following his triumph at SummerSlam. However, it was cut short as Drew McIntyre arrived to take on Reigns and his cousins.
Kross's music began playing out of nowhere, and as McIntyre turned to look around, Kross began to savagely attack him from behind and knocked him to the ground with a steel step.
Scarlett also joined him at the ringside, and as she entered, she placed the hourglass on the ring to symbolize that Roman Reigns' time was running out. It goes without saying that this was exciting enough for the fandom, who heaped praise for HHH on social media.
WWE fans are hailing Triple H on social media
Triple H hung up his boots in WrestleMania 38, following his health issues. But he is now back to top of the company after Vince McMahon's retirement. With his comeback, the EVP made a few familiar faces return as well. Previously, the WWE audience witnessed Bayley and her stable making a comeback to the company. Now that Kross is also back with a bang, the WWE fandom is clearly over the moon with all the changes.
The WWE's new authority was applauded as a result. One fan who praised WWE remarked that it hadn't even been months since they achieved what McMahon had failed to provide over the previous 15 years.
I have to say, HHH & Stephanie have done more for the @WWE in 7 days than Vince has done in the past 15 to 25 years.
And we're not even done with August!

— Skull One. (@Cyclone9650) August 6, 2022
According to one user, HHH is the greatest as he consistently delivers and ensures that WWE's future is in good hands.
Amen my brother Triple H is the best, he always delivers and the future of WWE is in the right hands. The Game is not playing around, he's just getting started. Karrion Kross is back baby hell yeah!!!!! #DoomsdayIsHere #FallAndPrey #TickTock 😤 🔥

— Juan Carrillo (@JuanCarr1825) August 6, 2022
One fan claims that Triple H is making a statement.
Triple H making a statement that's my dude basically saying everyone that Vince didn't view as an star who didn't go to AEW I'm bringing back to show why they are stars

— Liger (@babylige) August 6, 2022
This Twitter user appreciated the idea of Raw and SmackDown, both ending on cliffhangers.
We just saw a cliffhanger on Raw and Smackdown that gives you even more of a reason to watch. What a concept! The Triple H regime has begun.

— Christopher Stingray (@ChrisStingray) August 6, 2022
Meanwhile, one follower of WWE remarked that although McMahon had done much for the company in the past, Triple H is currently outperforming him.
I admire what vince did for WWE in past but now triple h is doing better than vince

Karrion kross is back against Roman reigns#smackdown

— Naveen khichi (@brollins_seth) August 6, 2022
One fan stated that The Game is currently on full force. They also believed that more returns are certainly feasible.
YO! TRIPLE H IS IN HYPERDRIVE RIGHT NOW! KARRION KROSS AND SCARLET ARE BACK! More returns are likely too! Kross calls out Roman Reigns after attacking Drew McIntyre. What a way to end tonight's #SmackDown!

— Phil Massey (@FirestarHart) August 6, 2022
Triple H is taking WWE back to mainstream LFG

— Mr. MITB (@theorysburner) August 6, 2022
ADVERTISEMENT
Article continues below this ad
There are so many reasons for this fan to be happy.
Triple H has WASTED no time as Head of Creative!

– Ricochet with an amazing match
– Shinsuke vs Gunther
– Shayna Bazler #1 contender
– Women's Tag Team Titles!
– KARRION KROSS & SCARLETT!!!!

Keep it coming, King. #SmackDown

— DAN 🍂 (@__d4nedison) August 6, 2022
ADVERTISEMENT
Article continues below this ad
It's true that WWE's recent shows have given their fans a brief look at what is to come. Given this, and for a variety of other reasons, Triple H is clearly winning people's faith in what he is doing.
Watch This Story: Dwayne Johnson's Daughter Simone to The Undertaker's Daughter Kaia – Meet Daughters of Top WWE Stars