How Did Kurt Angle Win the Olympic Gold Medal with a "Broken Freakin' Neck?"
Published 08/01/2020, 6:00 AM EDT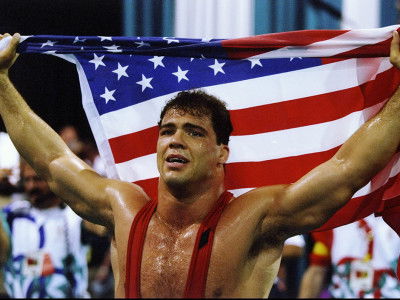 When they say that Kurt Angle is one of the best athletes our world has seen, they're not exaggerating. While professional wrestling is a mix of people from different sporting and non-sporting backgrounds, it was never more blessed than when an Olympic Champion decided to don a pro-wrestling gimmick.
ADVERTISEMENT
Article continues below this ad
And this was no ordinary champion. This was someone who had won the Olympic gold medal in freestyle wrestling with a "broken freakin' neck." Hearing a catchphrase so many times might immune you to the sheer weightage that those words hold. Even now, revisiting the story of Angle's Olympic triumph induces goosebumps.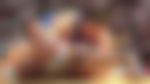 ADVERTISEMENT
Article continues below this ad
It was on this day in 1996 that Angle became an American hero. Today was the day when every young kid was inspired by a working class boy from Pittsburgh who claimed the world.
A broken neck and a world of grief – The Olympic path of Kurt Angle
Kurt Angle's claim to Olympic fame was anything but easy. His problems started at the trial phase itself.
In the semifinals of the national Championships, he had a bad landing, severely injuring his neck at three places. On top of that, he was 3-0 down with just a minute to go. Somehow, he pulled the match 4-3.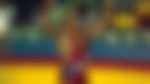 Even after being warned by the doctor that his neck might suffer permanent damage, Angle competed in the finals. After a 0-0 draw extending into overtime, he won by judge's decision.
He soon qualified for the 1996 Atlanta Olympics. Even though he was ecstatic about the result, only a mad man would risk his life by participating in a competition with the best wrestlers in the world, given his condition.
Read more- Released WWE Superstars – Where Are They Now?
Doctors refused to clear him and Angle recalls crying his eyes out in the doctor's office, in an interview given to ESPN. However, a flicker of hope came when a doctor came up with an idea. This required him to make the gamble of his life.
Angle fought through the pain
The doctor suggested that Angle inject Novocaine at the games to numb him to the pain. Obviously, the risk regarding neck damage still persisted.
His dreams weren't ending so soon as Angle went for this risky option. However, the Olympics were a different ball game altogether.
At just 211 pounds, Angle had a severe height and weight advantage to the towering Iranian and Russian athletes. However, the one thing he had, was an unflinching support of the home crowd.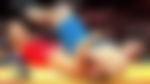 He would walk out to the music of Rocky and walk away with one miraculous victory after another. The finals were the conclusion of his long devotion.
It was now or never. Standing across him was Iranian Abbas Jadidi. After an excruciating match, the scoreline read 1-1. Even the overtime couldn't produce a result.
ADVERTISEMENT
Article continues below this ad
It was all down to the judges now. Jadidi went to the judging area and apparently read one of the scores. He flailed his hands up in joy, already celebrating his victory.
A deflated Angle sunk into himself. It was as if the entire thing had come to naught. He would still be a silver medalist, but he didn't work this hard to be a side note to someone else's story.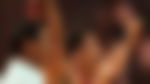 ADVERTISEMENT
Article continues below this ad
However, his world stopped for a second when the referee picked up his hand as the results were announced. Kurt Angle was an Olympic Gold Medalist. And guess what, he did it with a broken freakin' neck!
SOURCE: ESPN