"It's Ridiculous": Wrestling Veteran Shoots on Dwayne Johnson and Steve Austin Getting Away With Their Crazy Specialities
Published 06/18/2022, 7:30 AM EDT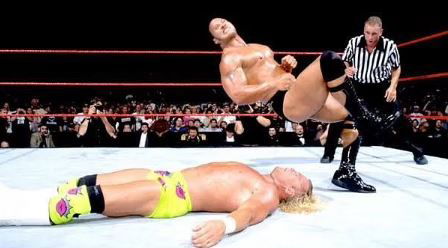 Dwayne Johnson is indeed the most famous and all-time best WWE superstar. There were several more factors that contributed to his fame, one of which being his finisher move, 'The People's Elbow'. However, it was created to break The Undertaker's character.
ADVERTISEMENT
Article continues below this ad
Additionally, legendary commentator and wrestling persona, Jim Cornette, described The People's Elbow as "preposterous" on the most recent episode of his podcast, 'Jim Cornette's Drive-Thru.'
ADVERTISEMENT
Article continues below this ad
During the podcast, a listener inquired about Cornette's opinions on The Rock's finisher move. In response, he remarked, "Yes, The Rock's elbow thing was preposterous and a throwaway thing. I don't remember if he specifically did it to pop The Undertaker, but the people went crazy. And every time you do something and they go crazy, you do it again. And he had got to a point where they'd buy that."
"But can you imagine I don't want to name any other wrestler if they'd done that and they weren't over like The Rock was at that point. The guy down there would've been. Like, 'I'm not going to lay here for 20 seconds when you criss-cross the ring twice. It's ridiculous."
He claimed that there have been a lot of prominent wrestlers who have done something terrible that no one else could. However, people were thrilled and entertained by their maneuvers.
Additionally, he also cited the famous example of Steve Austin's stomping mudhole. Although the maneuver was terrible, he was the only one who could get away with it since he was treated like a god at church.
To break The Undertaker's persona, Dwayne Johnson created 'People's Elbow'
WWE Hall of Famer,  The Undertaker, has successfully carried his persona for almost three decades. However, during the six-man tag team match, WWE superstars HHH, Mick Foley, Steve Austin, Kane, and The Rock attempted to break down 'The Deadman' character.
ADVERTISEMENT
Article continues below this ad
During an interview with TMZ, HHH revealed Dwayne Johnson created 'The People's Elbow' trying to break Taker's character. Triple H stated, "I believe the first time Rock did The People's Elbow was in a match where we were trying to make Taker crack." 
Although it began as a joke, his finisher has now become one of the most iconic and memorable finishing moves.
ADVERTISEMENT
Article continues below this ad
Watch This Story: WWE Superstars With The Highest Number of WrestleMania Matches
Do you think The People's Elbow was bizarre? Let us know what you think in the comments area below.