Mike Tyson Gets Very Comfortable With Wrestling Legend as He Discusses WWE Hall of Fame Induction
Published 05/06/2022, 3:47 PM EDT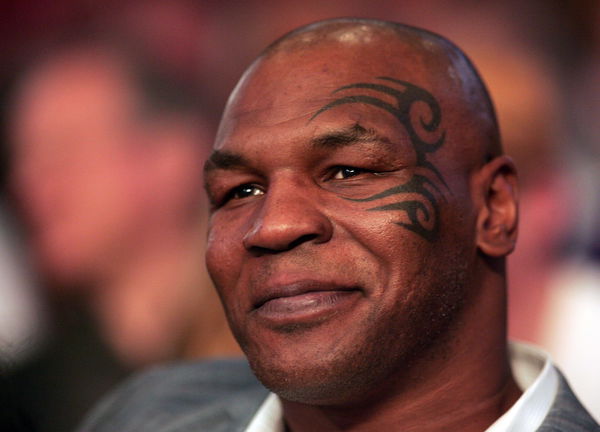 Whether or not you are a boxing enthusiast, Mike Tyson's name is self-explanatory. He is one of the greatest boxers of all time. In addition, his love for pro wrestling is not secret anymore. Recently, On his podcast, Hotboxin' with Mike Tyson, he was in conversation with WWE legend Ric Flair.
ADVERTISEMENT
Article continues below this ad
On the latest podcast, WWE Hall of Famer, Ric Flair joined Mike Tyson, Julianna Pena, and Sebastian Joseph-Day. Flair recalls being inducted into the WWE Hall of Fame alongside Tyson and The Horsemen.
ADVERTISEMENT
Article continues below this ad
Flair stated, "Mike, I, and the Horsemen got inducted all at the same time in 2012. We're all sitting there going, god damn cool is this to be with Mike Tyson and Mike's going, man, it's cool to be with you guys. I would only like should we hear Mike Tyson."
In 2012, Flair was a part of the rival Pro Wrestling promotion TNA. Since Flair was inducted into the WWE Hall of Fame. They worked out a deal in which Flair would be able to attend the event in person.
The WWE Chairman, Vince McMahon, has always been determined to make the company a global sensation. McMahon was successful in establishing WWE as a global phenomenon. McMahon recruited numerous celebrities from other industries to join WWE in order to attract a larger audience.
One of them was Mike Tyson, who gave one of the most iconic moments of the Attitude Era when he was announced as the match referee for the main event at WrestleMania XIV. Austin, on the other hand, stormed in and flicked his middle finger at Tyson.
Mike Tyson Hall of Fame Speech
ADVERTISEMENT
Article continues below this ad
Tyson was the world's youngest champion at the age of 20. Iron Mike is, without a doubt, one of the finest professional boxers ever. However, Tyson was inducted into the Hall of Fame by D-Generation X members, Shawn Michaels and Triple H.
Tyson in his Hall of Fame speech was emotional. During his speech, Tyson mentioned that he always wanted to be a wrestler since he grew up worshipping wrestlers such as Bruno Sammartino, The Moondogs, Iron Sheik, and Captain Lou Albano.
ADVERTISEMENT
Article continues below this ad
Watch This Story: WWE Superstars With The Highest Number of WrestleMania Matches
In addition, Tyson's final WWE appearance came in 2010 when he assaulted Chris Jericho with members of D-Generation X.