"My Privates Hurt So Bad": Painful Story of How Brock Lesnar Made WWE Legend, Who is Triple H's Close Buddy, Suffer
Published 05/06/2022, 3:18 PM EDT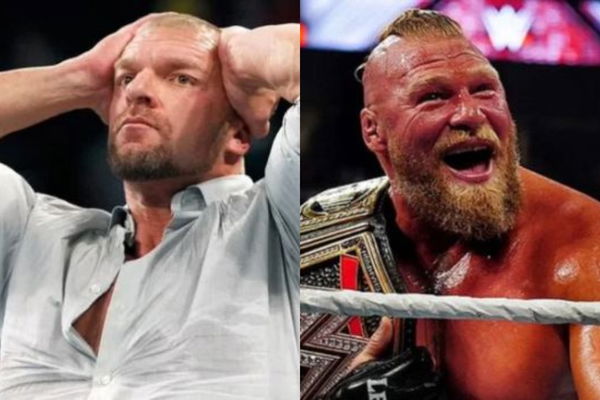 One of the veterans from the Attitude Era is WWE Hall of Famer "Road Dogg" Brian James. He rose to prominence as one half of 'The New Age Outlaws'. Additionally, in the recent episode of Oh You Didn't Know? podcast, James recalled the moment when he received F5 from Brock Lesnar.
ADVERTISEMENT
Article continues below this ad
On the podcast with Ryan Katz, James recalls the time when James and Billy Gunn returned in 2013 for a short period. In addition, the New Age Outlaw went up against Team Rhodes Scholars. However, in the middle of the bout, Brock Lesnar interrupted and delivered the F5 to the Outlaws.
ADVERTISEMENT
Article continues below this ad
On the podcast, James shares his experience receiving an F5 from Lesnar. He stated, "Here's how I controlled myself; if you can watch the video, I got to his leg, and I literally fell down, and I'm holding his leg. All I know he had to do was scoop me up, and then this was a running joke for a long time after this." 
"Boom, you'll see, I hit my nose and my private part on the ring really hard on both of them, and if you're wondering, my nose did hit first. But like, it so hurt bad. The bump was fine, but like, my nose and my privates hurt so bad."
"So then, it was like a running rib where Vince would make fun of me after that, like, 'Ha, maybe Brock can F5 you again," James Concluded. [40:26-41:09]
Brock Lesnar Brutal F5
The Beast Incarnate is well known for his aggressive wrestling style. Lesnar has been wrestling for 2 decades. He is one of the top superstars in WWE. During his stint, he delivered some brutal F5 to many wrestlers.
ADVERTISEMENT
Article continues below this ad
Although Lesnar had delivered F5 to many wrestlers. However, The Beast Incarnation shocked the world when he believed F5 to Big Show in the 2002 Survivor Series. In addition, the match was so heated and intense between Lesnar and the Big Show. However, Lesnar lost the fight, but his F5 against the Big Show is still iconic.
Watch This Story:- From Being An Ice Hockey Fan to Hunting: Brock Lesnar's Favorite Hobbies Outside WWE
ADVERTISEMENT
Article continues below this ad
Talking about Lesnar's F5, James on the podcast said, "Brock Lesnar picked me up like it was nothing and controlled me; he took care of me, he took me down flat; I mean, I didn't bump weird- so, look, he didn't kill me or didn't hurt me extra. He just did it how he normally does it." [41:40 – 42:02]
What do you make of James' F5 experience? Let us know in the comments below.