NFL Star Takes Shots at Boxer Rolando Romero With Sharp Rey Mysterio Reference During Fight With Gervonta Davis
Published 05/30/2022, 12:30 PM EDT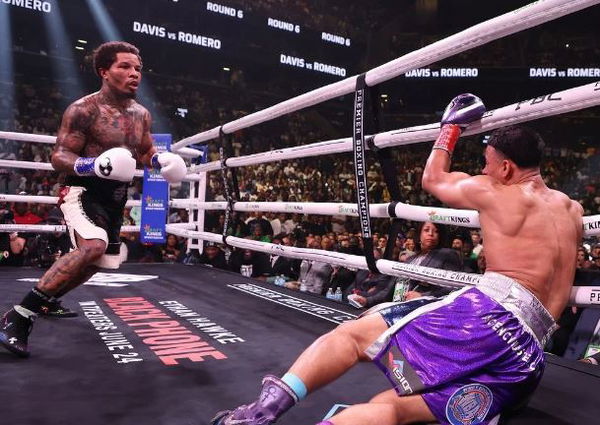 Rey Mysterio is a legendary wrestler who made a name for himself with his acrobatic moves. Mysterio is a high flyer, and his skills have wowed the WWE universe. Over the years, with his immaculate skills, he has performed many outstanding performances over the years.
ADVERTISEMENT
Article continues below this ad
Additionally, he was well-known for his 619 moves, which have become iconic. Recently, Rey Mysterio's 619 is referenced by Marquise 'Hollywood' Brown Arizona Cardinals star, who takes a hilarious dig at boxer Davis Romero.
ADVERTISEMENT
Article continues below this ad
The boxing world is currently buzzing about Gervonta Davis and Rolando Romero. On May 28, at the Barclays Center in New York, the two-faced off. 
Romero opened by pawing with his jab. Moreover, Davis tried to move inside and land his signature left hands and uppercuts. Davis also delivered a clever left-hand strike that caught Romero off guard and drove him face-first into the ropes before slamming him to the ground.
Additionally, a photo of Romero sliding onto the ropes has gone popular on social media. Romero was on the ropes, which was an ideal position for Mysterio to execute Mysterio's 619. Sharing the photo, Hollywood Brown takes a hilarious shot at Romero as he said, "Thought the 619 was incoming."
Rey Mysterio WWE Career Highlights
Rey Mysterio will be remembered as the greatest Luchador to ever enter a WWE ring. Fans liked him because of his innovative Lucha wrestling style and iconic outfits. The most noticeable aspect of Rey is his masks.
ADVERTISEMENT
Article continues below this ad
Three-time world champion Mysterio is largely recognized as one of the all-time great wrestlers. He also has the best royal rumble record. Moreover, his record stood out since he was the longest man standing at the Rumble. He lasted 62 minutes and 12 seconds in the fight.
Additionally, the Mexican Superstar swiftly proved that size doesn't matter after securing the cruiserweight and tag team titles. Mysterio did the impossible by winning the World Heavyweight Championship after winning the Royal Rumble at WrestleMania 22.
Moreover, following his steps, his son Dominik Mysterio, has also made a name for himself in WWE. It will be intriguing to see if he can deliver in the same way that Rey Mysterio did.
ADVERTISEMENT
Article continues below this ad
Watch This Story: WWE Superstars With The Highest Number of WrestleMania Matches
What's your favorite Rey Mysterio match? Let us know in the comments section.