Rare Photo Shows a Beer Can Looking Like a Tiny Ball in 7'4″ WWE Legend's Hand
Published 06/09/2022, 2:00 PM EDT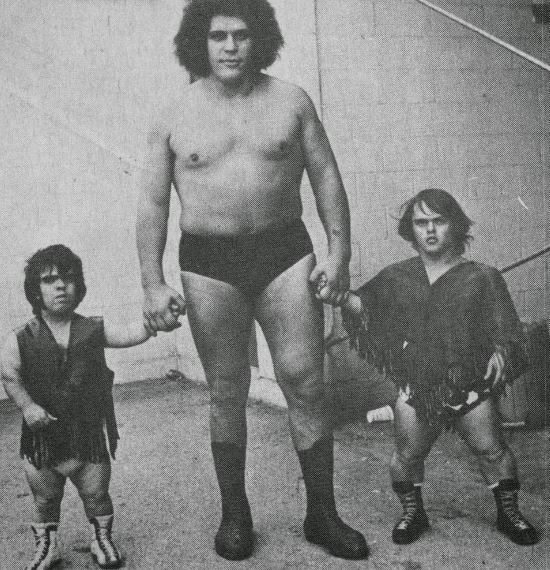 Andre the Giant is widely regarded as one of the greatest wrestlers of all time. He was a popular wrestler during the WWE's Golden Era, capturing the attention of fans all around the world. Additionally, The Giant was noticeably distinct from the usual wrestler because of his gigantic physique. Also, considering his body stature, he was known as the eighth wonder of the world.
ADVERTISEMENT
Article continues below this ad
On Twitter, recently, a photo resurfaced where he is holding a 12oz beer can.
ADVERTISEMENT
Article continues below this ad
In the photo, Andre the Giant is holding a beer in his hand, which appears like a small ball. The Beverage Can (12 oz) is approximately 13 cm tall and 6.62 cm in diameter. It also has a 355-milliliter capacity. However, when a regular person holds the can, it appears to be sizable in comparison to The Eighth Wonder.
Andre's enormous physique made him one of WWE's most popular stars. In addition, WWE dedicated a battle royal in his honor. The match's winner receives the Andre the Giant Memorial Trophy. Notably, NBA legend Shaquille O'Neal also participated in this event.
Has there been a wrestler that could match Andre the Giant in size?
In the 80s-90s fans loved the big-size wrestlers. Additionally, the audience was enthralled just seeing him go down the aisle to the ring ad Andre the Giant stood at seven feet four inches tall and weighed over 500 pounds.
ADVERTISEMENT
Article continues below this ad
There are some wrestlers who are on par with Andre in terms of size. The Great Khali, an Indian giant, is another example. Khali is about 350 pounds and stands at 7'1″. As soon as he arrived in WWE, The Great Khali drew the attention of the fans.
Giant Gonzalez, in particular, was noticeably larger than Andre. Gonzalez was an 8-foot giant and his stature and size astounded the WWE universe.
ADVERTISEMENT
Article continues below this ad
Watch This Story:- Dwayne Johnson's Daughter Simone to The Undertaker's Daughter Kaia – Meet Daughters of Top WWE Stars
Will any wrestler be able to compete with Andre the Giant in terms of size and stature? Please let us know what you think in the comments area below.