The Controversy Behind the Backstage Fight Between Brock Lesnar and Kurt Angle
Published 12/06/2020, 6:30 AM EST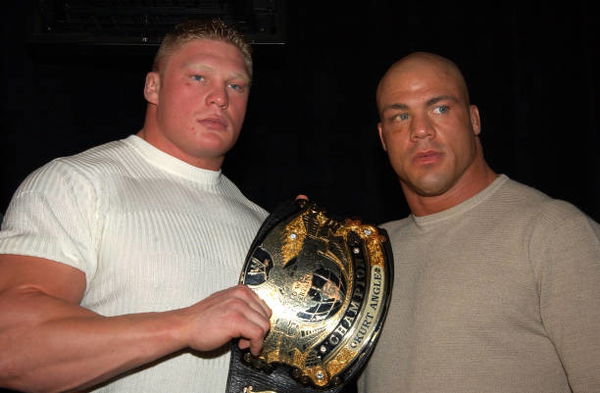 ---
---
Brock Lesnar and Kurt Angle had quite a brilliant rivalry in WWE. The wrestling legends faced each other at WrestleMania 19 for the first time, but the first time they fought has quite a wild story behind it. That fight came much before WrestleMania 19.
ADVERTISEMENT
Article continues below this ad
Brock Lesnar's arrogance led to a shoot fight with Kurt Angle
ADVERTISEMENT
Article continues below this ad
Brock Lesnar made is his WWE debut in 2002. His wrestling prowess, startling power and shocking athleticism made him a big deal in the locker room. However, there was another wrestler who shared similar attributes to Lesnar but was not considered a 'Beast'.
Kurt Angle was already a multi-time WWE Champion by the time Lesnar debuted. The Olympic Gold Medalist had established himself as one of the best wrestlers in the world, but Lesnar's arrival posed a threat to his spot at the top of the card.
Comparisons between Lesnar and Angle were often drawn due to their amateur background and impactful style of wrestling. Angle acknowledged Lesnar's skill and strength, but the youngster was not satisfied by a simple acknowledgement.
Brock Lesnar got beaten by Kurt Angle in shocking fashion
The two would end up having a shoot fight backstage which was sparked by Lesnar's arrogance and Angle's bid to prove that he was still the real wrestling 'beast' in WWE.
ADVERTISEMENT
Article continues below this ad
"He turned around and I said, 'Let's go'. And all the wrestlers around the ring, like lumberjack style, looked at him and said, 'You're not getting out bro,' " said Angle, in an interview with the Sun.
"We had the showdown. It was close. It really was. He had 90 pounds on me, but I probably took him down into the ropes a good 7-8 times. He used the ropes to say we're out of bounds. That's OK. I did take him down once. He didn't take me down at all," said Angle in the same interview.
ADVERTISEMENT
Article continues below this ad
Brock Lesnar and Kurt Angle's shoot fight is one of those instances that was seemingly kept under wraps by WWE. The reasons for the secrecy are unknown, but it is shocking to know that the 225-pound Angle was able to take down the 310-pound Lesnar.
Lesnar and Angle's career trajectory would move in opposite directions. Lesnar left WWE for the NFL in 2004, while Angle enjoyed runs with the WWE and World Heavyweight Championships. His career would be hampered by injuries and addiction, but a successful run in 2018 and 2019 guaranteed a satisfying end to his glorious career.