"I Got a Problem With Him": Brock Lesnar Admits Having a "Legit Beef" With The Undertaker After a 'Mysterious' Confrontation at UFC 121
Published 08/08/2022, 1:30 PM EDT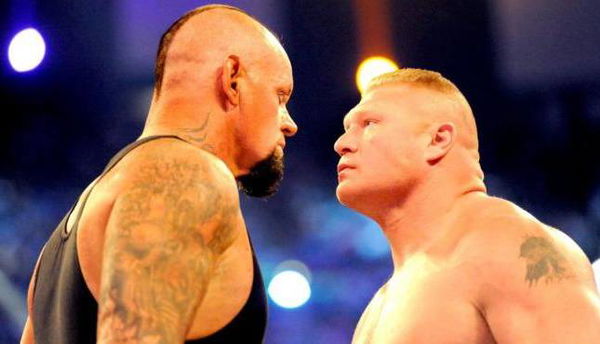 Brock Lesnar and The Undertaker both have a similar kind of intimidating persona. Thanks to their feud, the WWE Universe witnessed some iconic matches in their legendary WWE feud. Interestingly, prior to their legendary WWE feud, they might have engaged once in the UFC in 2011, where Taker challenged The Beast after his fight.
For the benefit of those who are uninformed, The Beast fought Cain Velasquez at UFC 121 in 2010, and Lesnar was beaten there by Velasquez. The battle is also famous for Taker's entrance into the arena and his unfriendly challenge to Lesnar as he was leaving after losing a fight.
ADVERTISEMENT
Article continues below this ad
The Deadman spoke with Ariel Helwani after the game to talk about it. As Lesnar passed while Taker was giving the interview, Taker challenged him and said he "would you want to do it". While howling with his eyes, the Beast turned toward Taker and didn't say anything.
Taker said "it's personal" when Helwani questioned why he had challenged him. Moreover, Lesnar also confirmed that he had beef during that time with Taker.
Brock Lesnar had a little personal beef with The Undertaker
Helwani subsequently questioned Lesnar about his thoughts on Taker, challenging him during their discussion. Lesnar replied, "I don't know what he wants to do. Maybe he wants to try to fight. I don't know he was there to fight or what you know he wasn't or if he was there to get some attention or what I don't know."
ADVERTISEMENT
Article continues below this ad
He added that these professional wrestling athletes had been a part of his life in the past and that he believed it sparked their envy when they saw him succeeding outside of their sphere. Moreover, he said, "I think there is some animosity there from the professional wrestling aspect of things. Because I can always go back and be a pro wrestler and they can't come and be Ultimate Fighter."
Watch This Story: Broke Teenager to Highest Paid Hollywood Actor: The Evolution of Dwayne 'The Rock' Johnson
ADVERTISEMENT
Article continues below this ad
This prompted Helwani to ask if there was a legit beef between him and Taker. Lesnar replied in the affirmative saying, "It is legit. I got a problem with him."
However, The Beast had mended fences with Taker when Lesnar left the UFC and joined the WWE, and they subsequently developed their relationship and turned close friends.