Vince McMahon's Biggest Competitor Who Stole Hulk Hogan From WWE Reveals How the Chairman of WWE Tried to Fix His Relationship With The Hulkster
Published 07/04/2022, 11:33 AM EDT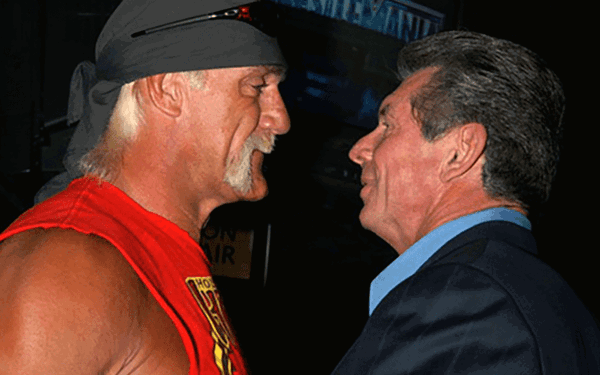 One of the major names who was instrumental in the development of the WWF (now WWE) is Hulk Hogan. More than any other person, Vince McMahon made the most of his abilities. From the 1980s until the early 2000s, Hulkster was one of the biggest stars. He did, however, depart from the biggest promotion in 1993 and came back nine years later.
ADVERTISEMENT
Article continues below this ad
In addition, after leaving the company, he joined WCW, where he spent 9 years working for Eric Bischoff. Recently, Bischoff, in conversation with Jim Ross, disclosed that there was a love-hate relationship between McMahon and Hogan. Additionally, he claimed that Mr. McMahon really attempted to make it better.
ADVERTISEMENT
Article continues below this ad
Talking on the Grilling JR podcast, Eric Bischoff stated, "Vince kept trying to recreate the dynamic that Vince had with Hogan, hence all the saw second chances, next starts, and Hall of Fame. Here's another reason we can bring him back, etc, etc. Vince kept trying to recreate that idyllic relationship they once had." [H/T: Wrestling New.co]
Moreover, he added, "I felt bad for Vince at times because he really wanted the relationship to get back on somewhat of an even-keel. It may not be what it used to be, but he wanted to make it better than what it is, and I'm not sure we accomplished that."
Putting aside the revelations, McMahon and Hogan have a closer relationship than only professional wrestling, since they are familiar with one another's families and social circles. Their friendship has remained constant throughout the years, despite the many difficulties.
Why Vince McMahon brought Hulk Hogan back into the WWE
ADVERTISEMENT
Article continues below this ad
Speaking with Pat McAfee, Vince McMahon stated that he is always studying the audience and what they want. Hulk Hogan was the greatest in the business at the time, which was another factor in the decision to bring him back to the promotion.
"It's one of the reasons why [Hulk] Hogan and a lot of those guys who left me at one time, and you know why I brought them back. It's like, 'I'll never bring that son of a b**ch back again.' When you say stuff like that, you're really hurting yourself because you're not thinking about your audience. You're not thinking about your product. And it's not about you and your ego," Mr. McMahon said.
ADVERTISEMENT
Article continues below this ad
Watch This Story: Luxury Mansion, Florida Beach Shop, and More: The Incredible Lifestyle of WWE Legend Hulk Hogan
However, there have been many claims from former wrestlers or adversaries that Mr. McMahon operates according to his convenience.