WATCH: Bloodied Ric Flair's Emotional Last Words After Last Match
Published 08/01/2022, 11:30 AM EDT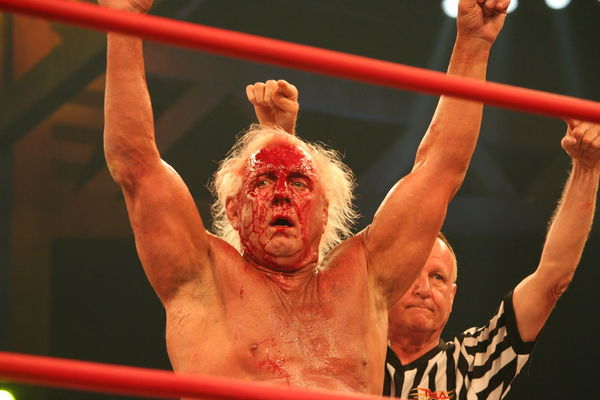 The Man, The Myth, The Legend — The Nature Boy accomplished the unthinkable by performing his final bout at 73. Ric Flair is one of the hardest workers of all time who had a long and illustrious career in sports entertainment. Flair faced off against Jeff Jarrett and Jay Lethal in Nashville, Tennessee, for his last match.
ADVERTISEMENT
Article continues below this ad
The anticipation for his bout was at its peak among the crowd following the roast and his vicious promo for his final match. The Undertaker, Bret Hart, Mick Foley, and many more well-known people attended his final match to witness Flair performing for the last time.
ADVERTISEMENT
Article continues below this ad
In the white Ric Flair robes, Flair entered the match. It is well known that he put in a lot of work in the gym and prepared himself physically for this bout. The Nature Boy wounded himself while being beaten by Jay Lethal and Jeff Jarrett, which is just one of the match's dramatic incidents.
Notably, as the wrestlers were battling outside the ring, Flair hit his head and got covered in blood. However, The Nature Boy, as the bout progressed, overcame the injury suffered with the help of his tag team partner, Andrade El Idolo. After winning the match in the closing moments of the event, Flair got emotional addressing the audience.
Ric Flair got emotional after the match
Fans have witnessed every imaginable aspect of his distinguished career after more than 40 years. He expressed his appreciation to his followers and close ones for sticking with him and supporting him over the years since they loved him throughout his whole career.
In his words, Flair said, "This happened better than the last time. To have you here in the greatest wrestling town, one of the greatest I hate to say greatest—But I had one of the best matches of my wrestling career here was Ricky Steamboat. All my family is here. We made jokes about me marrying 5 times, but all the kids are here one wife, but all my granddaughters and children are here."
ADVERTISEMENT
Article continues below this ad
"And my friends are here and I swear to god guys If I didn't have enough pressure on me tonight f**king Kid Rock walking locker room to me and said. He said to me I gotta night off, how about entertaining me? I said no s**t will try my best. Thank you for coming out. This was my last. I adore you are what make people like me and everybody walk to the door tick. We can't lose it and I appreciate you for coming. I hope I didn't let you down."
ADVERTISEMENT
Article continues below this ad
Watch This Story:- Dwayne Johnson's Daughter Simone to The Undertaker's Daughter Kaia – Meet Daughters of Top WWE Stars
Indeed, Flair had a historic night that night, with numerous superstars from the WWE in attendance. Knowing Flair, he will undoubtedly want to party all summer long after the bout.
Edited By: Vibhanshu Kumar