WATCH: Imposter 'Macho Man' Randy Savage Steals Hulk Hogan's Thunder
Published 08/07/2022, 12:00 PM EDT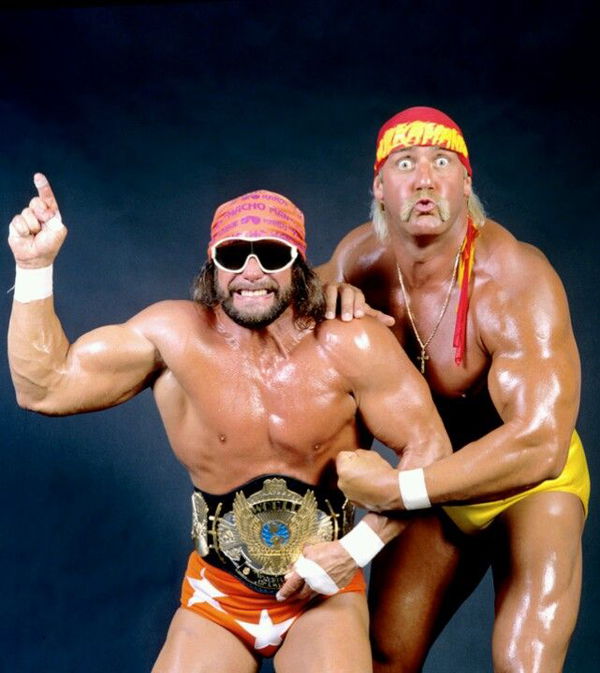 Hulk Hogan and Macho Man Randy Savage are two of the greatest to enter the wrestling business and are considered essential building blocks of what WWE is today. However, two of the legends don't appear to get along and this has regularly made headlines. This is why it recently drew the attention of many fans when Macho Man's impostor encountered the Hulkamania.
In a recent hilarious video, Macho Man's impostor is seen meeting Hulk Hogan at the Superhero Car Show and Comic Con in San Antonio, Texas. At the event, which included a number of celebrities that fans could meet and get autographs and pictures from their heroes, this impostor showed up to greet him.
ADVERTISEMENT
Article continues below this ad
Hogan's meetings with imposters appear to go on forever. As previously witnessed by the public, he bumped into his impostor when driving a few months ago, and this time, he met another imposter. As soon as he arrives, he deflects all focus away from Hogan and steals the stage.
The moment Hulk Hogan met an imposter, fans went crazy
The moment the mega powers came together, the wrestling fandom was ecstatic as it brought back many memories. Following are some reactions from fans to Hulk Hogan's Facebook post:
One fan said that it reminded him of an iconic WrestleMania 5 match in reaction to this. He said, "For a second it felt like Wrestle mania 5 1989 again."
One enthusiast remarked that he was happy to witness the mega-powers come together. Saying, "Mega powers reunited in some way."
ADVERTISEMENT
Article continues below this ad
Meanwhile, one user stated that he is 51 and yet a fan of professional wrestling since this magic never fades. In his words, "We may get older, but the magic lasts forever. I'm 51 and still a Pro Wrestling fan."
Many admirers expressed a sense of nostalgia by saying, "Ah, the good ol' days. Oooooh, Yeeaaah !"
One fan jokingly stated, "Now, that's a true fan!"
ADVERTISEMENT
Article continues below this ad
Watch This Story: Hollywood Megastar And WWE Legend Dwayne The Rock Johnson's Awe Inspiring Lifestyle
Similar to this, the supporters' excitement at getting to see the two pillars again was unending. What do you think about the impostor and Hogan's meeting? In the comments box, express your opinions.
Edited By: Vibhanshu Kumar