"What Could Happen..": Ric Flair Shuts Up Doubters Ahead of His Final Wrestling Match at 73
Published 06/23/2022, 2:29 PM EDT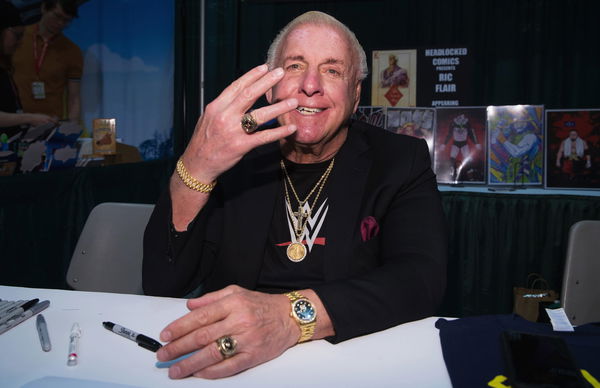 Ric Flair is among the most flamboyant wrestlers of all time. The Nature Boy has had various health difficulties in the past. However, he is about to make a comeback for his last professional wrestling match. Additionally, in a recent interview with John Poz, Flair shared how, occasionally, he proved doctors incorrect.
ADVERTISEMENT
Article continues below this ad
On the podcast, Flair stated, "In 2018, I had four operations in seven weeks, right? Four different doctors. So what do you believe? Everybody's got a different theory of what I can do, what I can't do. The first guy says I can't go skiing, told me I'll never be able to go above 10,000 feet, I went to Veil 20,000 feet, I went skiing. I fell down skiing. I fell down on the ice, ice skating." 
ADVERTISEMENT
Article continues below this ad
"So if I can do that, I can wrestle. And I'm breaking again, which I'm never supposed to do. It's easy to blame any aspect of what I've been through and what could happen, but I'm not worried about it."
He also mentioned that he believed what he can achieve at 73 is superior to 85 percent of any firm's roster in terms of basics. Not yet in terms of flying over the top rope, but rather in terms of hitting, wrestling, and psychology. He got an additional month and a half to be ready for his last match.
Where will the last bout of Ric Flair be held?
Flair wants to retire on his terms and is playing in his final bout, believing he is in perfect condition to compete at his peak. The Nature Boy will compete in his final bout at Starrcast V at the Nashville Fairgrounds on July 31.
ADVERTISEMENT
Article continues below this ad
An expert wrestler with a distinctive set of abilities, Ric Flair has a lot of experience. He won multiple championships in a variety of wrestling companies, including WWE, WCW, NJPW, and others.
The excitement among Naitch's admirers for this match, which he has claimed to be his last, is already high. The event's tickets were completely sold out in less than 24 hours. The fame of "The Nature Boy" is still as prominent as it ever was.
ADVERTISEMENT
Article continues below this ad
WATCH THIS STORY: WWE Superstars With The Highest Number of WrestleMania Matches
Are you looking forward to seeing Flair performing in his last match? Let us know in the comments section.