Aaron Hicks Steers Yankees Away from Elimination with One Hit
Published 10/19/2019, 6:50 AM EDT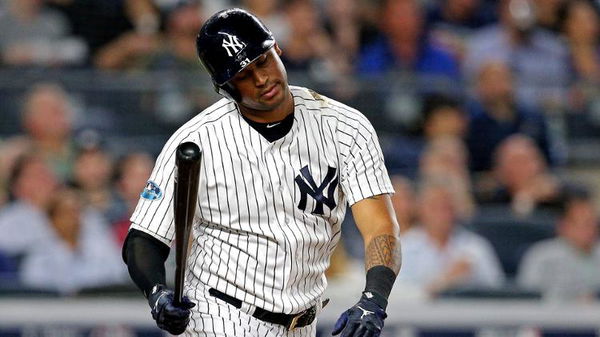 ---
---
When Aaron Hicks stepped up to the plate, he was up against Justin Verlander. All the odds were stacked against him, but he still managed to pull off a miracle from almost nowhere.
ADVERTISEMENT
Article continues below this ad
Hicks entered Game 5 of the ALCS with stats of just 2-for-23 with 10 strikeouts in his career. It was also note-worthy that Hicks had not played since Aug. 3, when he suffered a strained flexor tendon near his right elbow.
But instead of being out of his depth, Aaron Hicks delivered the most important hit of the game, to help the Yankees avoid elimination.
ADVERTISEMENT
Article continues below this ad
Hicks' dramatic three-run homer capped a wild first inning in a 4-1 win that extended the Yankees' baseball season.
"That was the game plan: to strike early," Hicks said. "Get some good pitches to hit early in the count and try to be aggressive towards him early in the game, and we were able to score four off of him."
Prior to this, the Yankees were demoralised after one of their ugliest losses of the year in an error-filled mess in Game 4.
ADVERTISEMENT
Article continues below this ad
However, DJ LeMahieu tied the game on Verlander's second pitch with an opposite-field homer to right-center. Then, Aaron Judge ripped a single to left and Gleyber Torres followed it up with a double to left, sending Judge to third.
Giancarlo Stanton, in his first at-bat since suffering a strained quad in Game 1 of the ALCS, then whiffed for the first out. Hicks fell behind 0-2 before working the count full and then turned on a 3-2 pitch.
As Hicks stood at the plate watching, the ball hooked and nearly went foul, before bouncing off the foul pole for a three-run homer to give the Yankees a 4-1 lead — and send a chilly Yankee Stadium crowd into a frenzy.
ADVERTISEMENT
Article continues below this ad
"I felt like I hit it," Hicks said. "I knew I hit it well. I felt like I stayed inside the ball well enough for it to be fair. And that's kind of like my thing, kind of staying up on home runs like that, especially when I know I've got it. It definitely had a lot more spin on it than I thought. But it was able to stay fair and put us up right there.''