"Mini Replicas of Roscoe" – Lewis Hamilton Opens Up on Expanding His Brood After Coco's Passing
Published 08/27/2021, 5:34 PM EDT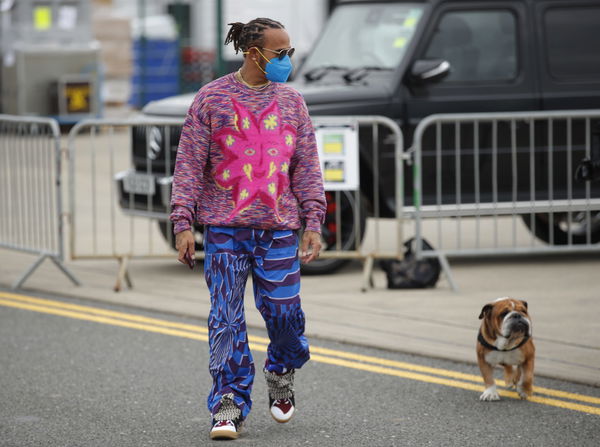 ---
---
Lewis Hamilton has his dog, Roscoe to give him company during the Grand Prix weekends. The Knight had another dog, named Coco who tragically passed away. Being recently asked if he would take another, he stated he has considered adopting, but would also like to have Roscoe's puppies.
ADVERTISEMENT
Article continues below this ad
With Roscoe frequently being featured on Hamilton's Instagram, it wouldn't be a surprise if we get to see another dog featuring in his stories, whether it would be a dog that he has decided to adopt or keep Roscoe's puppies.
Lewis Hamilton is considering adopting another dog to pair beside Roscoe
ADVERTISEMENT
Article continues below this ad
It is no surprise that the 7-times world champion is a big fan of dogs. His Instagram is constantly flooded with content about his dog. So when asked if was considering getting another dog, Hamilton had few ideas in mind.
Being asked in Q&A, Hamilton responded, "I have missed Coco a lot, I see people getting dogs, puppies all the time. For some reason, dogs just keep coming on my Instagram feed. I would love to adopt, Coco was adopted."
"I kinda want to selfishly also would love to see, little mini replicas of Roscoe. I would love to have his puppies. Just so his bloodline continues on, you know, so it doesn't just end with him. But I don't know if either of that is going to happen. Time will tell," Hamilton concluded.
Watch Story: From Prince to the Queen: When F1 Stars Interacted With the Royal Family
Roscoe accompany's Lewis to the Belgian Grand Prix
Along with entourage, the Mercedes driver even got his bulldog to give him company as he prepares for his at Spa this upcoming weekend. Fans of the 7-times world champion were delighted to see Roscoe in a picture with Lewis.
He wrote, "Selfies with dads."
The 36-year-old will always look forward to spending time with Roscoe after he is done zipping around Spa to get the best result possible for the Silver Arrows this weekend.
With Roscoe by side this weekend, he hopes to get love and positivity from him, and start the second half of the season by bringing home a win for the Brackley-based squad.
ADVERTISEMENT
Article continues below this ad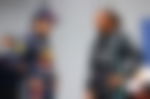 ADVERTISEMENT
Article continues below this ad