WATCH: MotoGP Champion Marc Marquez Survives Chilling Tumble Across Silverstone
Published 08/28/2021, 6:16 AM EDT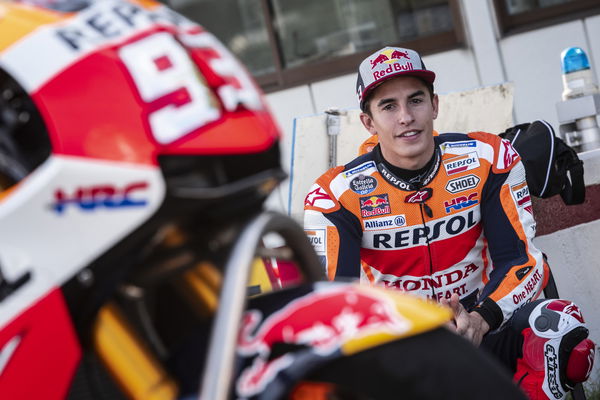 ---
---
The dangers of motorsport never cease to make themselves known. Recently, Moto GP saw a frightening incident at Silverstone, where Marc Marquez slid across the circuit. It was during the free practice session of the British Moto GP, at the end of which, the racer was a part of a horrific accident.
ADVERTISEMENT
Article continues below this ad
Marc Marquez had set the fastest time; finishing the session on top of the timesheets. The Spaniard approached Maggotts at a rapid 170mph. His Respol Honda gave in beneath him; luckily Marquez was quick to react and slid away from the bike. As a result of the speed, the racer tumbled across the grass in the form of numerous barrel rolls.
ADVERTISEMENT
Article continues below this ad
The Ant of Cervera eventually stopped and got up to walk away. Not a stranger to such dangerous situations, Marquez is now known for his crashes. After two huge incidents in Jerez and another in Assen, Marc also lost a possible win in Austria because of a last-minute tumble.
Moto GP phoenix- Marc Marquez
Before the Silverstone scare, Marquez most recently had an incident in Jerez. The eight-time champion fractured his arm in the 2020 season opener in Spain; having been away from the track until April this year. He returned to the Portuguese GP, but didn't expect to do so.
Read More: REVEALED: McLaren F1's Brilliant New Initiative to Reduce Their Carbon Footprint at Belgian GP
Marquez fittingly once said, "In the hard moments you need to show your potential. In the good moments, everybody is happy and smiling and quick, in the hard moments you need to fight." Making his way back to the two wheels, he showed his relentlessness and drive to win. "My style is to try to suffer to improve and come back. And to enjoy it on the bike. Now I am not enjoying it, now I am suffering."
ADVERTISEMENT
Article continues below this ad
The veterans well appreciated the legend's return to the sport. Alberto Puig had said, "Marc's comeback has been more difficult than expected…it's really amazing. He's riding with, I will not say one arm but let's say with one and a half arms. I think only one guy can do this and it's him."
ADVERTISEMENT
Article continues below this ad
His arm was a cause of anxiety for him as Marquez questioned if he would have a normal arm again. Persisting through the pain, he is back on the track. Luckily the barrel rolls at Silverstone didn't worsen his situation; the man is clearly made of steel.
Watch this story: From Cristiano Ronaldo to Shaquille O'Neal: When Other Athletes Mingled With F1 Stars