Texas Motor Speedway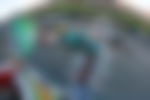 Texas Motor Speedway- 2021 Latest News, Winners, Qualifying, Track
Texas Motor Speedway is a speedway situated in the American city of Fort Worth, Texas. The reconfigured track is estimated to be 1.44 miles (2.32 km) with banked 20° in turns 1 and 2 and banked 24° in turns 3 and 4. Texas Motor Speedway is a quad-oval plan, where the front straightaway extends outward marginally. The track format is like Atlanta Motor Speedway and Charlotte Motor Speedway. The track is owned by Speedway Motorsports, Inc.
ADVERTISEMENT
Article continues below this ad
The speedway has been overseen since its commencement by promoter Eddie Gossage.
History
In light of qualifying speeds in 2004, 2005, and 2006, the Track was once viewed as the quickest non-restrictor plate track on the NASCAR circuit, with qualifying speeds of more than 192 mph (309 km/h) and corner passage speeds of more than 200 mph (320 km/h).
ADVERTISEMENT
Article continues below this ad
As the tracks' particular hustling surfaces keep on wearing, qualifying speeds at Atlanta have gotten reliably quicker than at Texas. Brian Vickers holds the NASCAR qualifying record at TMS. In 2006, he posted a 196.235 mph (315.810 km/h) speed.
Elliott Sadler beat the record before Brian, qualifying in the 49/50th spot. The NASCAR records actually miss the mark concerning the unsurpassed TMS qualifying record. Driving a Lola Ford Champ Car, Kenny Brack took pole for the Firestone Firehawk 600, with a speed of 233.447 mph in 2001.
Texas Motor Speedway is home to the Cup Series' Autotrader EchoPark Automotive 500, just as the NASCAR All-Star Race. The track likewise has two NASCAR Xfinity Series races, the Alsco Uniforms 250 and the O'Reilly Auto Parts Challenge, the IndyCar Series' Genesys 600, and the NASCAR Camping World Truck Series' SpeedyCash.com 400.
ADVERTISEMENT
Article continues below this ad
Quick Facts
Location
3545 Lone Star Circle, Fort Worth, TX 76177
Operator
Speedway Motorsports, Inc. (1996-)
Former Names
Texas International Raceway
Major Events
NASCAR Cup Series

Autotrader EchoPark Automotive 500

NASCAR All-Star Race

NASCAR Xfinity Series

Alsco Uniforms 250

O'Reilly Auto Parts 300

NASCAR Camping World Truck Series

SpeedyCash.com 400

IndyCar Series

Genesys 600

Length
1.5 mi (2.4 km)
Most Wins
Jimmie Johnson (7)
Most Starts
Jeff Gordon (30)
Texas Motor Speedway News Feed
---
---
---
---
---
---
---
---
---
---