Shaquille O'Neal Admits Michael Jordan and Tom Brady Are on the Same Level: "I Kinda Wish My Book Was Like That. I'm Jealous of Guys Like Tom and Michael"
Published 02/13/2022, 6:32 AM EST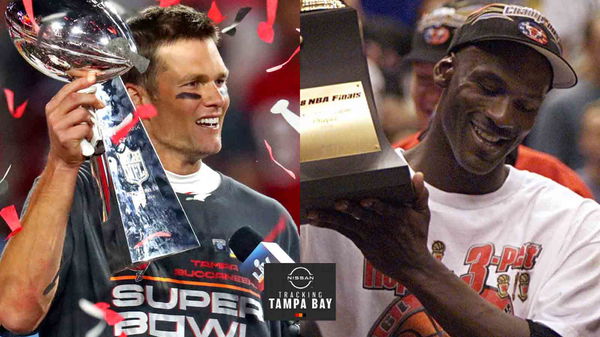 Shaq has been throwing the biggest party of the year on the biggest weekend of the year. The Super Bowl is tomorrow, and Shaq's Fun House is the place to be. While celebrating the big game, O'Neal expressed how much he will miss watching Tom Brady toss a football.
After Brady announced his retirement, it left a big hole in the hearts of football fans. But he leaves behind a legacy for the young players to step up and fill that spot. A storybook like this has been written by Michael Jordan as well. These are the guys that make Shaquille O'Neal kind of jealous. 
ADVERTISEMENT
Article continues below this ad
Shaq is jealous of Tom Brady and Michael Jordan
Shaq did a red carpet event for his Fun House party in LA. Los Angeles is home to the former Lakers center. So the Super Bowl being hosted there his year is just the cherry on top for Shaq. 
During the event, a reporter asked O'Neal about Tom Brady retiring from football. Shaq said that it saddened him. But Brady had a very successful career.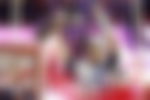 "At some point, you have to give it up, and also for guys like us, we want to be able to look at our book and say, 'I have a hell of a book.'" Said Shaq. "Like my book is okay. I got four rings. But his book, him and Jordan, guys like Magic and Bill Russell, they have like unbelievable books. I went to the finals ten times. Won eight, so I mean, I kinda wish my book was like that. I'm jealous of guys like Tom and Michael, but at least I have a book."
The career of Shaq
ADVERTISEMENT
Article continues below this ad
Shaquille O'Neal is a GOAT in his own right. He has played in the NBA for 19 years. O'Neal has played for many big-time teams like Miami Heat, LA Lakers, Boston Celtics, and many more. The center has won countless awards throughout his illustrious basketball career. 
ADVERTISEMENT
Article continues below this ad
Shaq is a four-time NBA champion. He won three championships in a row with the Los Angeles Lakers. From 2000 to 2002, Shaq was unstoppable. He was also the NBA finals MVP for all three seasons. O'Neal tasted again championship gold in 2006, this time in Miami. He has countless other accolades to go with these. Yet he sometimes finds himself jealous of Tom Brady and Michael Jordan.
Watch This Story:  LA Rams Quarterback Matthew Stafford and Wife Kelly's Relationship Timeline: From College Sweethearts to Parents of 4