Michigan State Spartans
Michigan State Spartans 2021: News, Schedule, Roster, Scores, Injury Report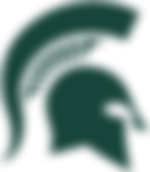 The Michigan State Spartans compete in NCAA Men's Basketball as a part of the Big Ten Conference. Some notable opponents from the conference include Illinois, Iowa, and Wisconsin. They were founded in 1898.
Back in 1926, the university had chosen the nickname "Staters" for themselves, but George Alderton, a local sports journalist, disliked it and refused to use it. He then got the name "Spartans" from his immigrant friend, Stephen Scofes, who hailed from Sparta, Greece. Since then, the name Spartans has stuck on and become the official nickname for the university.
The Michigan State logo is a sideways-facing Spartan helmet, which is green. The Spartans have been consistent with their logo and have been using the same one since it was first introduced in 1977.
History
| | |
| --- | --- |
| Founded | 1898 |
| Conference | Big 10 Conference |
| Athletic Director | Bill Beekman |
| Head Coach | Tom Izzo |
| Arena | State Farm Center |
| Championships (2) | 1979, 2000 |
| Conference Tournament Titles (6) | 1999, 2000, 2012, 2014, 2016, 2019 |
| Conference Regular Season Titles (16) | 1957, 1959, 1967, 1978, 1979, 1990, 1998, 1999, 2000, 2001, 2009, 2010, 2012, 2018, 2019, 2020 |
| Website | https://msuspartans.com/sports/mens-basketball |
Who is the Coach of the Spartans?
The current head coach of the Spartans is Tom Izzo. He joined back in 1983 as an assistant coach and was promoted to the head coach role in 1995.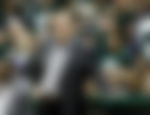 Izzo was inducted into the Naismith Hall of Fame in 2016. He is a legend figure in college basketball, boasting over 600 wins in the NCAA circuit. Since his third season in charge, he has led them to every NCAA tournament and led them to the title win in 2000.
Who is the Athletic Director of the Spartans?
The current athletic director is Bill Beekman.  He was appointed as an interim in February 2018, before being named as the full-time AD later in July.
He is an alumnus of the university and initially joined in 1995, serving multiple positions before being appointed as the athletic director in 2018.
Achievements and Championships
The Spartans have been dominating the Big 10 Conference in recent years and have won the last three regular-season championships from 2018 to 2020.
Their 1979 NCAA championship win is the most-watched college basketball game in history.
Their current streak of 22 consecutive NCAA tournament appearances is the third-best active record, after Kansas and Duke.
The Spartans have won two NCAA Division 1 titles so far, with victories in 1979 and 2000.
Greatest NBA Players
The Spartans are famous for producing some of the finest talents the NBA has ever seen.
Magic Johnson, Zach Randolph, and Jason Richardson are among the greatest players to don the Spartans uniform. Johnson is regarded as one of the best college players, and he led the Spartans to their first title back in 1979.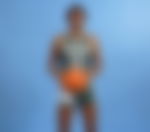 Draymond Green, Jaren Jackson Jr, Miles Bridges, and Gary Harris are some of the best former Spartans currently playing in the NBA.
Mascot and Uniform
The Michigan State mascot is called Sparty. He first appeared as a paper-mache head back in 1955. It was replaced by a fiberglass head next year, and finally in 1982, the costumed mascot made its debut.
Sparty dons a typical Spartan armor, which is green, and he has a mean look on his face. He is one of the most popular mascots and was voted to feature on the cover of NCAA Football 09 for the Nintendo Wii.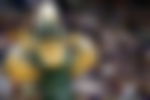 The team colors of the Spartans are green and white.
Current Roster
The Spartans roster for the 2020-21 season has 15 players.
Position

Jersey

Number

Name

Height

Weight

F

0

Henry, Aaron

6-6

210

G

1

Langford, Joshua

6-5

200

G

2

Watts, Rocket

6-2

185

G

3

Loyer, Foster

6-0

175

G

10

Hoiberg, Jack

5-11

175

G

11

Hoggard, A.J.

6-3

220

G

13

Izzo, Steven

5-8

150

G

14

Smith, Davis

6-1

185

F

15

Kithier, Thomas

6-8

230

F

20

Hauser, Joey

6-9

220

C

22

Sissoko, Mady

6-9

235

F

25

Hall, Malik

6-7

215

F

30

Bingham Jr., Marcus

6-11

225

F

34

Marble II, Julius

6-8

225

F

44

Brown, Gabe

6-7

210
Schedule
ADVERTISEMENT
Article continues below this ad
The Michigan State Spartans began their 2020-21 season with an 83-67 win against East Michigan on November 25. They have a 27-game regular season that ends with a home game against rivals Michigan on March 7, 2021. Currently, their record is 3-0.
The full schedule is available on the college website.
How to contact Michigan State Spartans men's basketball?
ADVERTISEMENT
Article continues below this ad
Michigan State Spartans on Twitter: @MSU_Basketball
Michigan State Spartans on Instagram: @michiganstatebasketball
Michigan State Spartans News Feed
---
---
---
---
---
---
---
---
---
---