Iowa Hawkeyes
Iowa Hawkeyes 2021: News, Schedule, Roster, Scores, Injury Report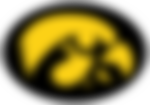 The Iowa Hawkeyes compete in NCAA Men's Basketball as a part of the Big Ten Conference. Some notable opponents from the conference include Michigan, Ohio State, and Wisconsin. They were founded in 1901.
ADVERTISEMENT
Article continues below this ad
The name Hawkeyes originates from James Fenimore Cooper's fictional novel called The Last of the Mohicans, which had a character called Hawkeye. 12 years after the book was released, the state of Iowa acquired the name, thanks to the efforts of Judge David Rorer and James G. Edwards.
Their logo is a sideways-facing hawk, which has been used since 1979. The first logo was introduced back in 1953, which featured a hawk that donned a helmet and held a banner that said Hawkeyes.
History
| | |
| --- | --- |
| Founded | 1901 |
| Conference | Big 10 Conference |
| Athletic Director | Gary Barta |
| Head Coach | Fran McCaffery |
| Arena | Carver-Hawkeye Arena |
| Championships (0) |  - |
| Conference Tournament Titles (2) | 2001, 2006 |
| Conference Regular Season Titles (8) | 1923, 1926, 1945, 1955, 1956, 1968, 1970, 1979 |
| Website | https://hawkeyesports.com/sports/mbball |
Who is the Coach of the Hawkeyes?
The current coach of the Hawkeyes is Fran McCaffery. He was appointed in 2010, a year after winning the MAAC Coach of the Year with Siena. McCaffery currently has a 194-143 record with the Hawkeyes.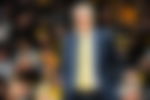 He has taken the Hawkeyes to four NCAA tournaments during his ten seasons at Iowa and has now turned them into one of the favorites to win the tournament in the upcoming season.
Who is the Athletic Director of the Hawkeyes?
The current athletic director of the Hawkeyes is Gary Barta. He joined Iowa in 2006, following the departure of former AD, Bob Bowlsby.
Barta is responsible for bringing in coach McCaffery and has been influential for them. In 2016, he was named an Under Armour Athletics Director of the Year award recipient by the National Association of Collegiate Directors of Athletics (NACDA).
Achievements and Championships
The Hawkeyes had their best seasons in the 1950s when they reached the Final Four of the NCAA tournament twice in a row. Since then they have reached that stage just once in 1980.
Three former Iowa coaches, Sam Barry, Ralph Miller, and Lute Olson, have been inducted in the Naismith Hall of Fame. Olson was the coach when the Hawkeyes won they last won a Conference Regular Season back in 1979.
They enter the 2020-21 season ranked as the fifth best team on the AP Poll, which is their first appearance in the preseason top 5 rankings.
The Hawkeyes are yet to win an NCAA championship.
Greatest NBA Players
Over the years, the Hawkeyes have produced many players who have played in the NBA. Don Nelson, B. J. Armstrong, Fred Brown, and John Johnson are some of the best players to have donned the Hawkeyes jersey.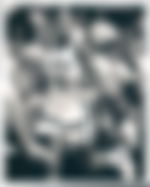 Currently, there are only two former Iowa players in the league, Tyler Cook and Jarrod Uthoff, who are both on two-way contracts.
Mascot and Uniform
Iowa's mascot, Herky the Hawkeye, was created as a cartoon character by Richard Spencer III, instructor of journalism in 1948. His name was given by John Franklin, an Iowa alumnus, in reference to Hercules.
Herky took the field for the first time almost a decade later in 1959, and an Iowa sports icon was born. He wears a fierce-looking hawk costume which is black and gold.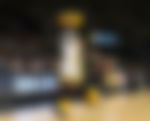 The team colors of the Iowa Hawkeyes are black and gold.
Current Roster
The Hawkeyes roster for the 2020-21 season has 16 players.
Position

Jersey

Number

Name

Height

Weight

F

0

Michael Baer

6-7

215 lbs.

G

1

Joe Toussaint

6-0

190 lbs.

F

2

Jack Nunge

6-11

245 lbs.

G

3

Jordan Bohannon

6-1

175 lbs.

G

4

Ahron Ulis

6-3

190 lbs.

G

5

CJ Fredrick

6-3

195 lbs.

G/F

10

Joe Wieskamp

6-6

212 lbs.

G

11

Tony Perkins

6-4

210 lbs.

G

13

Austin Ash

6-3

179 lbs.

F

15

Keegan Murray

6-8

215 lbs.

F

20

Kris Murray

6-8

215 lbs.

F

22

Patrick McCaffery

6-9

200 lbs.

F

23

Josh Ogundele

6-10

285 lbs.

G

24

Nicolas Hobbs

6-2

200 lbs.

G/F

30

Connor McCaffery

6-5

205 lbs.

C

55

Luka Garza

6-11

265 lbs.
Schedule
ADVERTISEMENT
Article continues below this ad
The Iowa State Hawkeyes begin their 2020-21 season with a game against North Carolina Central on November 25. They have a 27-game regular season that ends with a home game against Wisconsin on March 5, 2021.
The full schedule is available on the college website.
How to contact Iowa Hawkeyes men's basketball?
ADVERTISEMENT
Article continues below this ad
Iowa Hawkeyes on Twitter: @IowaHoops
Iowa Hawkeyes on Instagram: @iowahoops