Indianapolis Motor Speedway
trending
What Americans are reading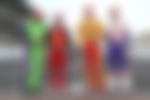 Indianapolis Motor Speedway - 2021 Latest News, Winners, Qualifying, Track
The Indianapolis Motor Speedway is a car racing circuit situated in Speedway, Indiana (a territory suburb of Indianapolis) in the United States. It is the home of the Indianapolis 500 and the Brickyard 400, and previously, the United States Grand Prix.
Situated at the intersection of sixteenth Street and Georgetown Road, roughly six miles (10 km) west of Downtown Indianapolis, it is the biggest sporting venue on the planet.
In August 1994, the Brickyard 400 for the NASCAR Winston Cup Series made its presentation, and at that point, included the biggest group and biggest money handbag in NASCAR history. From 1998 to 2003, an IROC occasion was held as a help race.
Since 2012, the Brickyard 400 has been upheld by the Pennzoil 150 of the NASCAR Xfinity Series; in 2020, the race was moved to the infield street course.
Referred to for a period as Kroger Super Weekend, it likewise recently facilitated the Brickyard Grand Prix for the TUDOR United Sports Car Championship on the infield street course.
History
Developed in 1909, it is the second purpose-built, banked oval dashing circuit after Brooklands and the first to be known as a 'speedway,' It is the third-oldest permanent vehicle race track on the planet, behind Brooklands and the Milwaukee Mile. With a perpetual seating limit of 257,325, it is the highest-capacity sports venue in the world.
Considered relatively flat by American standards, the track is a 2.5-mile-long (4.0 km) rectangular oval with measurements that have remained basically unaltered since its development.
It has two 5?8-mile-long (1,000 m) straightaways, four mathematically indistinguishable 1?4-mile (400 m) turns, connected by two 1?8-mile (200 m) short straightaways, named "short chutes," between turns 1 and 2, and between turns 3 and 4.
Notwithstanding the Indianapolis 500, the speedway additionally has NASCAR's Brickyard 400 and Pennzoil 150. From 2000 to 2007, the speedway facilitated the Formula One United States Grand Prix, and from 2008 to 2015, the Moto GP.
On the grounds of the speedway is the Indianapolis Motor Speedway Museum, which opened in 1956 and houses the Hall of Fame. The exhibition hall moved into its present structure situated in the infield in 1976. Also on the grounds is the Brickyard Crossing Golf Resort, which initially opened as the Speedway Golf Course in 1929.
On November 4, 2019, Hulman and Company reported the offer of its organization, including the Indianapolis Motor Speedway, the IndyCar Series and related ventures to Penske Corporation, claimed by Roger Penske.
From 1919 to 1993, the Indianapolis 500 was the lone authorized race held at the Speedway. At the point when Tony George (Hulman's grandson) acquired the track, he led a push to carry additional dashing occasions to the track.
Quick Facts
Location
Speedway, Indiana
Operator
IMS, LLC (subsidiary of Penske Entertainment Group.)
Major Events
IndyCar Series

Indianapolis 500

GMR Grand Prix

NASCAR Cup Series

Brickyard 400

NASCAR Xfinity Series

Pennzoil 150

Length
2.500 mi (4.023 km)