trending
What Americans are reading
Indiana Hoosiers 2021: News, Schedule, Roster, Scores, Injury Report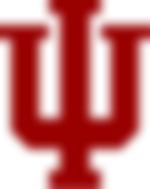 The Indiana Hoosiers compete in NCAA Men?s Basketball as a part of the Big Ten Conference. Some notable opponents from the conference include Iowa, Michigan, and Ohio State. They were founded in 1901.
The residents of the state of Indiana are called Hoosier. There was once a contractor named Samuel Hoosier who preferred to hire only Indiana residents. So his workers were called Hoosier's men, and the name stuck on for the people of the state. So the university has adopted this as their nickname.
The Hoosiers have been consistent with their logo. It has always been a letter U, which has the letter I on top of it. While it has always been a 2D image, from 1982-2001, there was a 3D version. Then in 2002, it returned to how it was earlier, but with a chiseled look.
History
| | |
| --- | --- |
| Founded | 1901 |
| Conference | Big 10 Conference |
| Athletic Director | Scott Dolson |
| Head Coach | Archie Miller |
| Arena | Simon Skjodt Assembly Hall |
| Championships (5) | 1940, 1953, 1976, 1981, 1987 |
| Conference Tournament Titles (0) | - |
| Conference Regular Season Titles (22) | 1926, 1928, 1936, 1953, 1954, 1957, 1958, 1967, 1973, 1974, 1975, 1976, 1980, 1981, 1983, 1987, 1989, 1991, 1993, 2002, 2013, 2016 |
| Website | https://iuhoosiers.com/sports/mens-basketball |
Who is the Coach of the Hoosiers?
The current coach of the Hoosiers is Archie Miller. He was appointed in 2017, after six years of coaching with Dayton.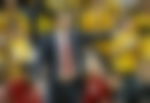 Miller took time to settle in, and the team had a 16-15 record with him in his first season. The next season they improved slightly, going 19-16. In his third season, the Hoosiers improved again and finished with an impressive 20-12 record, their first 20 win season since 2015-16.
Who is the Athletic Director of the Hoosiers?
The current athletic director of the Scott Dolson. He was appointed earlier this year, on July 1.
Before this, he worked as the Hoosiers Deputy AD for 11 years, and finally got his promotion. His base salary as the AD is around $480,000. Dolson is also an alumnus of the university.
Achievements and Championships
The Hoosiers are the most successful Big 10 Conference team in the NCAA. They have won five NCAA titles and 22 Big 10 conference regular-season titles. They boast an impressive 5-1 record in NCAA tournament finals.
Indiana has the most All Big 10 team selections with 53.
The Hoosiers have won the NCAA Division 1 title five times, with their victories coming in 1940, 1953, 1976, 1981, 1987.
Greatest NBA Players
The Indiana Hoosiers have built a reputation for producing multiple Hall of Famers. Isiah Thomas, Walt Bellamy, and George McGinnis have come through the ranks at Indiana. Thomas led the Hoosiers to the NCAA title in 1981, and then went on to become a two-time champion in the NBA.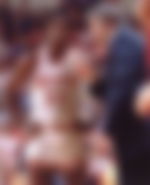 The Hoosiers currently have eight alumni in the NBA. Victor Oladipo, Eric Gordon, and OG Anunoby are three of their most famous representatives.
Mascot and Uniform
The Indiana Hoosiers don't have an official mascot. But throughout the years, they have had a wild journey with mascots. They have had an owl, a bison, and even the toddler of an athlete. They also came up with a costumed mascot called Mr. Hoosier Pride. But he was short-lived after the students were not fond of him.
The team colors for the Indiana Hoosiers are cream and crimson.
Current Roster
The Hoosiers roster for the 2020-21 season has 16 players.
Position

Jersey

Number

Name

Height

Weight

G

0

Cooper Bybee

6-1

188

G

1

Aljami Durham

6-4

185

G

2

Armaan Franklin

6-4

195

G

3

Anthony Leal

6-5

210

G

4

Khristian Lander

6-2

185

G

5

Michael Shipp

6-3

190

G

10

Rob Phinisee

6-1

187

F

14

Nathan Childress

6-6

212

G

15

Sebastien Scott

6-2

185

F

21

Jerome Hunter

6-7

215

F

22

Jordan Geronimo

6-6

220

F

23

Trayce Jackson-Davis

6-9

245

F

25

Race Thompson

6-8

228

G

32

Trey Galloway

6-4

210

G

45

Parker Stewart

6-5

200

C

50

Joey Brunk

6-11

255
Schedule
The Indiana Hoosiers began their 2020-21 season with an 89-59 win against the Tennessee Tech Golden Eagles on November 25. They have a 27-game regular season that ends with an away game against Purdue on March 6, 2021.
The full schedule is available on the college website.
How to contact Indiana Hoosiers?
men's basketball?
Indiana Hoosiers on Twitter:?@IndianaMBB
Indiana Hoosiers on Instagram:?@indianambb