Michigan Wolverines
Michigan Wolverines 2021: News, Schedule, Roster, Scores, Injury Report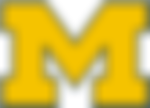 The Michigan Wolverines compete in NCAA Men's Basketball as a part of the Big Ten Conference. Some notable opponents from the conference include Illinois, Iowa, and Michigan State. They were founded in 1909.
ADVERTISEMENT
Article continues below this ad
Their nickname originates from Michigan being called the Wolverine state. There are multiple theories surrounding why they got that name. Some believe it was the native Indians who called them wolverines as an insult, when the people of Michigan took over their land. Yet others believe it was the Ohioans who gave them this nickname following their dispute in the 1830s.
Their logo is a simple yellow letter M. The wolverine appeared on their logo until 1987, when it was changed to the letter M with a banner that said Michigan. In 2012, this banner was dropped in an attempt to go minimalistic.
History
| | |
| --- | --- |
| Founded | 1909 |
| Conference | Big 10 Conference |
| Athletic Director | Warde Manuel |
| Head Coach | Juwan Howard |
| Arena | Crisler Center |
| Championships (2) | 1989 |
| Conference Tournament Titles (2) | 2017. 2018 |
| Conference Regular Season Titles (14) | 1921, 1926, 1927, 1929, 1948, 1964, 1965, 1966, 1974, 1977, 1985, 1986, 2012, 2014 |
| Website | https://mgoblue.com/sports/mens-basketball |
Who is the Coach of the Wolverines?
The current head coach of the Wolverines is Juwan Howard. He was appointed in 2019, after working as an assistant coach with the Miami Heat for six years.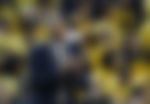 Howard is a former Wolverine, who played for the basketball team in the early 1990s. He was drafted by the Washington Bullets in 1994 and went on to play in the NBA for almost two decades. He won two titles during his time with the Miami Heat as a player.
Who is the Athletic Director of the Wolverines?
The current athletic director of the Wolverines is Warde Manuel. He was appointed in 2016 on a five-year deal.
He is also an alumnus like Howard and played three years on the football team. Manuel had stints as an AD at Buffalo and Connecticut before he joined Michigan.
Achievements and Championships
The Michigan Wolverines were one of the most successful teams from the 1960s to the 1980s.
Three of their five NCAA tournament finals appearances came in that era, including their only title victory. They also won seven regular-season championships in that time period.
Last season, they tied Kansas for the largest jump in AP Poll history, when they went from unranked to #4 within a week.
They have won just one NCAA Division 1 title so far, with their victory coming in 1989.
Greatest NBA Players
The Michigan Wolverines are one of the top colleges when it comes to producing NBA level talent. During the early 90s, the Wolverines boasted of a Fab Five which consisted of Chris Webber, Jalen Rose, Juwan Howard, Jimmy King, and Ray Jackson.
The first three went on to make a huge impact in the NBA and have won many accolades.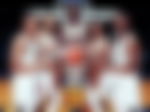 Over ten Wolverines alumni are currently playing in the NBA. Caris LeVert, Duncan Robinson, and Tim Hardaway Jr are some of the most notable ones.
Mascot and Uniform
The Michigan Wolverines do not have a mascot currently. They had one in the early 1920s, and it was two live wolverines named Biff and Bennie. They were later sent to a zoo and were replaced with a stuffed version.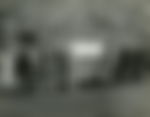 There were a few unofficial mascots over the years: Whiskey, a terrier, and her daughter Brandy had a few halftime show appearances before being discontinued. Students made a costumed mascot called Willy the Wolverine, who ended up getting banned.
The team colors of the Michigan Wolverines are maize and blue.
Current Roster
The Wolverines roster for the 2020-21 season has 17 players.
Position

Jersey

Number

Name

Height

Weight

G

0

Adrien Nunez

6-6

210

C

1

Hunter Dickinson

7-1

255

F

2

Isaiah Livers

6-7

230

G

3

Zeb Jackson

6-5

180

G

4

Brandon Wade

6-1

185

F

5

Terrance Williams II

6-7

240

G

12

Mike Smith

5-11

185

G

14

Rico Ozuna-Harrison

5-11

175

G

15

Chaundee Brown Jr.

6-5

215

G

21

Franz Wagner

6-9

220

F

23

Brandon Johns Jr.

6-8

240

F

24

C.J. Baird

6-5

225

G

25

Jace Howard

6-7

210

G

32

Luke Wilson

6-0

175

F

44

Jaron Faulds

6-10

240

F

51

Austin Davis

6-10

250

G

55

Eli Brooks

6-1

185
Schedule
ADVERTISEMENT
Article continues below this ad
Michigan began their 2020-21 season with a 96-82 win against Bowling Green on November 25. They have a 26-game regular season currently that ends with an away game against rivals Michigan State on March 7, 2021. Currently, their record is 4-0.
The full schedule is available on the college website.
How to contact Michigan Wolverines men's basketball?
ADVERTISEMENT
Article continues below this ad
Michigan Wolverines on Twitter: @umichbball
Michigan Wolverines on Instagram: @umichbball
Michigan Wolverines News Feed
---
---
---
---
---
---
---
---
---
---