Alabama Crimson Tide
Alabama Crimson Tide 2021: News, Schedule, Roster, Scores, Injury Report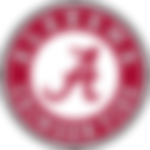 The Alabama Crimson Tide competes in NCAA Men's Basketball as a part of the Southeastern Conference. Florida, LSU, and Kentucky are some notable teams from their conference. They were founded in 1912.
ADVERTISEMENT
Article continues below this ad
The name Crimson Tide came into existence when in November 1907, former Birmingham Age-Herald sports editor Hugh "Doc" Roberts described a football game between Auburn and Alabama as "crimson tide."
The current logo of the Crimson Tide is an italics letter A, surrounded by the team name in a circle. There were multiple logos before and each of them involved an elephant before it was dropped completely in 2004.
History
| | |
| --- | --- |
| Founded | 1912 |
| Conference | Southeastern |
| Athletic Director | Greg Byrne |
| Head Coach | Nate Oats |
| Arena | Coleman Coliseum |
| Championships (0) |  - |
| Conference Tournament Titles (7) | 1930, 1934, 1982, 1987, 1989, 1990, 1991 |
| Conference Regular Season Titles (8) | 1930, 1934, 1956, 1974, 1975, 1976, 1987, 2002 |
| Website | https://rolltide.com/sports/mens-basketball |
Who is the Coach of the Crimson Tide?
The current head coach of the Crimson Tide is Nate Oats. He was appointed in March 2019.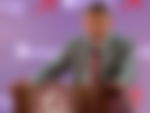 Oats came to Alabama boasting an impressive record during his previous stint at Buffalo. Under him, the Crimson Tide have developed a lethal offense, which ranked third in the country in points per game last season.
Who is the Athletic Director of the Crimson Tide?
The current athletic director of the Crimson Tide is Greg Byrne. He joined the university back in 2017, after almost a decade of experience with Mississippi State and Arizona.
Byrne made the appointment of Nate Oats, after firing his predecessor Avery Johnson.
Achievements and Championships
The Alabama Crimson Tide has made 20 appearances in the NCAA tournament, and the furthest they have gone is the Elite Eight.
That feat was achieved in 2004, when they beat the number one ranked Stanford, but lost in the Elite Eight to the eventual champions, UConn.
They have ranked as the number team just once when Mark Gottfried led them to the pole position in the 2002-03 season.
The Crimson Tide are yet to win an NCAA championship.
Greatest NBA Players
Alabama alumni are not an unfamiliar sight in the NBA. Antonio McDyess, Latrell Sprewell, and Robert Horry are some of the former Crimson Tide players who have become prominent names in the NBA. Sprewell is a four-time All-Star, while Horry is a seven-time NBA champion.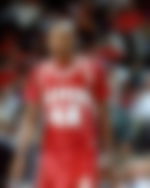 Collin Sexton and JaMychal Green are the current Alabama alumni in the league and Kira Lewis Jr who will make his debut this season after being drafted by the Pelicans in the 2020 NBA Draft.
Mascot and Uniform
The Alabama Crimson Tide adopted the elephant as their mascot after being called the Red Elephants back in the 1930s by sportswriters. Their mascot is called Big Al, who made his official debut in 1980.
He was given the name following a student vote selected the name after a popular campus DJ called Al Brown. Prior to Big Al, live elephants were also used by the university.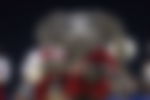 The team colors of the Alabama Crimson Tide are crimson, gray, and white.
Current Roster
The Crimson Tide's roster for the 2020-21 season has 20 players.
Position

Jersey

Number

Name

Height

Weight

F

1

Herbert Jones

6-8

210

F

2

Jordan Bruner

6-10

225

F

3

Alex Reese

6-9

230

F

4

Juwan Gary

6-6

218

G

5

Jaden Shackelford

6-3

200

G

10

Delaney Heard

6-3

198

G

11

Joshua Primo

6-6

190

F

12

Darius Miles

6-6

185

G

13

Jahvon Quinerly

6-1

175

G

14

Keon Ellis

6-6

170

F

15

Tyler Barnes

6-8

201

G

21

Britton Johnson

6-4

183

F

22

Keon Ambrose-Hylton

6-8

210

G

23

John Petty Jr.

6-5

184

G

24

Jaden Quinerly

6-0

155

G

25

Adam Cottrell

6-3

200

F

30

Kendall Wall

6-5

192

F

33

James Rojas

6-8

220

G

34

Paul Stramaglia

6-0

180

F

35

Alex Tchikou

6-11

225
Schedule
ADVERTISEMENT
Article continues below this ad
The Alabama Crimson Tide began their 2020-21 season with an 81-57 win against the Jacksonville State Gamecocks on November 25. They have a 27-game regular season that ends with a home game against the Auburn Tigers on March 2, 2021. Their current record is 4-2.
The full schedule is available on the college website.
How to contact Alabama Crimson Tide men's basketball?
ADVERTISEMENT
Article continues below this ad
Alabama Crimson Tide on Twitter: @AlabamaMBB
Alabama Crimson Tide on Instagram: @alabamambb
Alabama Crimson Tide News Feed
---
---
---
---
---
---
---
---
---
---